#BBCtrending: Sacking of David Moyes trends worldwide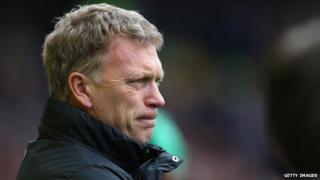 #MoyesSacked, #MoyesOut, #SaveMoyes... In case you hadn't noticed, the Manchester United manager David Moyes has been sacked - and the news has taken over Twitter, from Manchester to Lagos to Beijing to Kuala Lumpur.
Think of every permutation of the words "David Moyes", "Man U" and "sacked" and you start to scratch the surface of the almighty trend that's washing across Twitter worldwide right now. There are literally dozens of hashtags and terms trending. "Moyes" alone has been used more than 1.5 million times on Twitter since Monday.
#MoyesSacked - another popular one - has been bubbling away for a few months, as disgruntled United fans expressed their dissatisfaction with the team's performance this season. "Goodnight Tweeps. Really disappointing game. Hopefully #MoyesSacked will be the headlines when I wake up!" was one tweet from a month ago - just after their 3-0 defeat to rivals Manchester City. And it gathered pace through Monday as reports emerged of his expected sacking. There is even a Twitter account @MoyesOutASAP - with 11,000 followers - which has been plugging away for months calling for him to go.
Also gathering pace on Monday, and used around 60,000 times since then, is the hashtag #SaveMoyes - a stream of mostly sarcastic comments from supporters of rival clubs, used widely from London, to Jakarta to Lagos and Nairobi. Most prominent among them was Piers Morgan, British journalist and TV presenter, and an Arsenal fan. His simple #SaveMoyes tweet was retweeted more than 2,000 times.
Also trending have been the hashtags, #thankyoumoyes,#thanksmoyes,#thankyoumoyesey and #bringbackmoyes - a mix of supportive tweets from Manchester United fans, and joke ones from rival supporters. The official tweet from Manchester United on Tuesday confirming the news has been shared almost 75,000 times.
Trending in both Manchester and Liverpool on Tuesday, following the news that Ryan Giggs will take on the role of manager until a replacement is found, was the Twitter handle @officialgiggs. "Just got about 30 tweets wishing me congrats on managing Man U," tweeted the account early on Tuesday. The only problem is @officialgiggs is not the Ryan Giggs, but appears to belong to a London-based rapper called GIGGS.
Reporting by Cordelia Hebblethwaite
All our stories are at bbc.com/trending
You can follow us on Twitter @BBCtrending