#BBCtrending: Emiratis say 'London is not safe'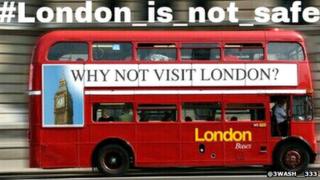 How quickly can a viral hashtag damage the perception of a city?
London and the United Arab Emirates (UAE) are closely connected. Thousands of tourists from the UAE visit the capital each year and the city's biggest football arena is Arsenal's Emirates Stadium. But a violent attack in the city has led thousands of Emiratis to tweet that #london_is_not_safe - threatening to unwind that relationship.
According to reports, on Tuesday seven people wielding hammers, knives and guns broke into an apartment in the city, stealing money, jewellery and credit cards from an Emirati couple. It comes just weeks after a separate incident in which three Emirati sisters were attacked in a luxury hotel - for which UK Ministers have expressed sympathy.
The latest attack has prompted a social media campaign to raise awareness about safety in London. The #london_is_not_safe hashtag was started by Emirati Twitter accounts 20 hours ago and has around 3,500 tweets. "Emiratis living in London are concerned," one of those tweeting, Bader al Kaabi, told BBC Trending. "I feel unsafe because two families have been attacked. And London police do nothing."
Mr al Kaabi, originally from the UAE, says he usually enjoys trips in London but has now tweeted "now No to London & yes to Paris or Rome."
One of the most widely shared images by those tweeting the hashtag shows a Dubai city skyline next to a hammer. The image reads "Dubai's heat is better than London's' hammer."
Other Emiratis said it was unfair to single out London. "That's not right to say #London_is_not_safe, it happens anywhere, even in UAE" tweets Intellectual-QuBaiSi "it's not logical to blame London for what criminals do." Others went further. "#London_is_not_safe is the most absurd trend," tweets Maryam Giggs. "The world is not safe, you always need to watch your back wherever you go." The trend comes on the same day that annual data from hospital A&E departments shows violent crime in England and Wales has continued to fall.
Reporting by David Lewis