#BBCtrending: Why cancer trends on social media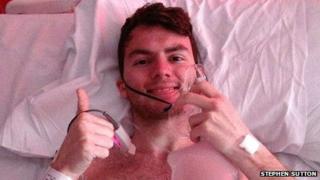 Sharing a personal story of battling cancer can be an act of catharsis - and in the era of social media, it's increasingly being used as a fundraising tool.
"Stephen's Story" has gripped the UK. Stephen Sutton, age 19, used his Facebook page to document his story of living with bowel cancer. When he composed what he thought was his final post last week, he shared a photo of himself giving a thumbs up from his hospital bed. It resonated with people and prompted a surge in donations to the charity Teenage Cancer Trust. The total now stands at £3 million raised.
The British comedian Jason Manford played a role in spreading the story. He was the first to post a selfie with the hashtag #ThumbsUpForStephen. Other celebrities quickly followed suit. "It was just one of those phenomena on social media that happens so rarely and really took off" Manford told BBC Trending. "I've not done anything special. The celebrities just amplified Stephen's story but he was the variable because he's so inspirational."
But Stephen is not alone in posting his story online. In fact, there are multiple organisations encouraging people to share their stories - often not necessarily to raise money but to also raise awareness. "Social media has transformed healthcare and given patients a voice like never before" says Matthew Zachary, a cancer survivor and the founder and CEO of Stupid Cancer, which works to empower those affected by young adult cancer. There are also countless sites and personal blogs dedicated to encouraging conversation about cancer. The Cancer Sucks Facebook page asks people to "sound off about cancer and do not hold back! Tell us your stories, your losses, your victories and whatever you want."
Other cancer survivors continue their blogs long after they've finished treatment. One of those is Merylee's Breast Cancer Battle Blog which was started to keep everyone updated on her treatment. "I am now 31 & Cancer FREE!" she says. "Please add people to this blog and get the awareness out there that this can happen to anyone at any age." These blogs raise awareness, but the latest trend has been to raise funds directly after sharing a personal narrative. For example, Jessica Martin in the US set up a blog for her son Sammy who was diagnosed with cancer when he was two years old. She began a fundraising campaign called Shave it for Sammy. Family and friends shaved their heads and raised thousands of dollars in the process. This year Sammy himself shaved his head. "He didn't cut his hair, he "shaved it." Jessica writes. "Because cancer stinks, right, Mom?!"
The potential to raise money for cancer charities on social media is huge. As we reported on this blog last month, £8 million was raised within six days for Cancer Research UK because of the #nomakeupselfie trend. The Under the Red Dress project caught international media attention when New Zealand woman Beth Whaanga released a series of photos on Facebook showing the changes to her body after cancer treatment. As these many examples - including Stephen's story - show, the combination of personal narrative and social media campaigning is a powerful one. "Social media is not just not just recognising that people have a voice." say Matthew Zachary of Stupid Cancer. "It's leveraging it for change."
Reporting by Anne-Marie Tomchak