#BBCtrending: When May Day meets social media in Turkey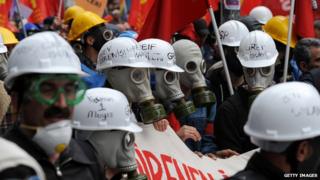 It's 1 May and "May Day" is trending around the world, but nowhere more so than Turkey, where there have been clashes between police and protesters - all caught on social media.
"May Day" is celebrated for different reasons around the world, but for many it is marked as International Workers' Day - a day when socialist and workers' rights groups often take to the streets. Sure enough, "May Day" is trending on social media right round the world, from London, to Jakarta to Johannesburg. But in Turkey, May Day has well and truly taken centre stage on social media, with a swathe of hashtags trending. These include "1 May" (#1Mayis), "To Taksim on May Day" (#1MayıstaTaksime), and "We Want Peace on May Day" (#1mayıstahuzurİstiyoruz).
But things have not been peaceful. Authorities in Turkey have barred any May Day gatherings this year at Taksim Square, citing security concerns - and despatched tens of thousands of police to implement the ban. They have used tear gas and water cannon to stop protesters gathering there.
Countless images from the narrow streets around Taksim Square - which was also the site of last year's anti-government Gezi Park protests - are being shared on social media. Many show protestors kitted out in gas masks. One of the most popular ones appears to show police taking a group selfie. Others show people detained or arrested - including actor Emre Canpolat.
Taksim Square has huge symbolic importance to Turks - on 1 May 1977, unidentified gunmen fired into a crowd gathered to mark International Workers' Day. More than 30 people died in the violence that followed, and the square was closed for 1 May demonstrations until 2010. One of the widely shared images on social media purports to show the alternative site recommended by the government for gatherings on May Day - empty, except for a lone wandering bird.
Reporting by Cordelia Hebblethwaite
Have you subscribed the BBC Trending podcast? You can do so here via iTunes or here
All our stories are at BBC.com/trending