#BBCtrending: Support for Israeli soldier who aimed gun at teen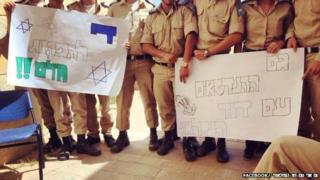 More than 120,000 people have "liked" a Facebook page set up to support an Israeli Defence Force soldier who cocked and pointed his gun at a Palestinian teenager in the West Bank.
This is a story that started on YouTube, spread to local TV, then took off like wildfire on Facebook. From there it made front-page news in Israel - prompting top politicians to weigh in. It started on Sunday when a Palestinian activist group, Youth Against Settlements, posted a video to YouTube which shows two young Palestinians in a standoff with an IDF soldier. After one of them fronts up to him in a challenging way, the soldier cocks his gun as if to shoot and points it at each of them in turn. The purpose of posting the video was to highlight the aggression of the Israeli military, but in Israel it has prompted the exact opposite response.
Thousands of people have "liked" a page set up in support of the soldier, called "I am also with David of the Nahal Brigade". And hundreds have sent in images of themselves holding signs with the same motto. What has particularly raised eyebrows is the fact that many of the photos are from uniformed members of the Israeli military - who say they feel frustrated and powerless to respond when faced with violence, such as stone-throwing, from Palestinians in their day-to-day work. Both politics and protests are off-limits for serving members of the military in Israel, and many have got around this by covering their head to obscure their identity.
Some politicians have posted images of support. Israel's Economy Minister, Naftali Bennett, even entered the fray with a post on his Facebook page in which he praised the actions of "David the warrior" and said the soldier had "done the right thing".
But - as ever - there are other perspectives on the story. "This for me is a disgusting campaign," says Issa Amro, coordinator of Youth Against Settlements, the group that uploaded the video. They train activists and locals in how to use cameras and social media - in order to highlight abuses at the hands of Israelis. The purpose of this post was to "shame and embarrass" the Israeli military, he says. The fact that so many have come out in support of the solider is, in his view, "a sign that Israeli society is getting more aggressive and extreme".
A big part of the initial social media storm seems to have been whipped up by a misunderstanding. Early reports suggested the soldier had been given a 20-day sentence in a military prison for his actions, but the IDF later clarified that this was for two unrelated incidents of violence within his own army unit. The IDF says it's investigating the incident in Hebron.
Reporting by Cordelia Hebblethwaite
Have you subscribed the BBC Trending podcast? You can do so here via iTunes or here
All our stories are at BBC.com/trending