#BBCtrending: The men blasted for urinating in public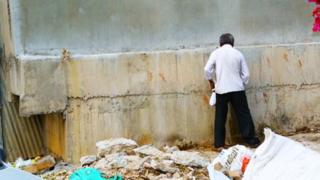 A YouTube video showing men in India urinating on the street being blasted with jets of water has proved a big hit in the country, with more than 850,000 views.
Against walls. Against trees. A series of men in that unmistakable, back-turned pose, are caught mid-stream on camera on the streets of India. "The problem", says the text on the hit YouTube video is "public urination". The "solution" it offers is a dramatic one. As the music crescendos, a big yellow truck comes into shot. The men are spray-hosed with a powerful jet of water - and left drenched. The ultimate in getting a taste of your own medicine.
Some commenting on the video have argued it's a waste of water, that public shaming is not appropriate, or that building more public toilets would be a more effective solution. But much of the response on social media has been positive. One man on YouTube said watching it gave him "a demented sense of happiness", as he too hates public urination. India has a poor reputation on this issue, and numerous attempts to tackle it have not solved the problem. Others have asked how they can join the "initiative", or joked that it should be extended to the whole country.
The origin of the video itself is distinctly mysterious. It was posted last Wednesday, by an organisation called The Clean Indian. However none of the experts in sanitation in India approached by BBC Trending had heard of the group. It's also unclear whether the events shown in the video were real or staged. "The video has a somewhat pre-planned look," says Indian film-maker Paromita Vohra, who has made a documentary about the lack of public toilets. A Twitter account for the group was set up a few days ago, but later deleted. The Clean Indian has not responded to our requests for an interview.
"I think it's a gimmick, but at least someone is drawing attention to the problem," says Pierre Fitter, a journalist who covers social media for Headlines Today, a TV station in India. The video has struck a nerve, he says, because many feel that "Indian men are just lazy" - using the shortage of public toilets as an excuse for relieving themselves in public.
Reporting by Cordelia Hebblethwaite
Have you subscribed the BBC Trending podcast? You can do so here via iTunes or here
All our stories are at BBC.com/trending