#BBCtrending: North East England hits back with pride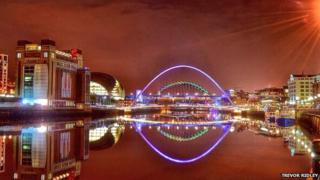 The North East of England has hit back after an article in the Guardian newspaper said it was "teetering on the brink" and asked if it was in danger of becoming Britain's Detroit.
Twitter users were quick to defend the region using the hashtags #NEandProud and #100reasons.
Nick Forbes, Labour Leader of Newcastle City Council, started the #NEandProud hashtag campaign by tweeting: "Complete rubbish spouted in the Guardian about the NE. Challenges, yes. But teetering on the brink? Nowhere near #NEandProud."
This was one of the most retweeted quotes in a conversation that then went on to outline the reasons why the North East is not comparable to Detroit.
"I'm proud of our indefatigable spirit," wrote one Twitter user in Billingham, "that even after everything that's been thrown at us, we still have a sense of humour. #NEandproud."
Others shared images to illustrate the beauty of the region after a local newspaper, The Journal, asked people to tweet #100reasons why it's great up North. Many of the images posted tried to emphasise the contrast between England's North East and Detroit in the US.
Sarah Hall, a PR consultant in Newcastle upon Tyne, wrote a blog explaining why she believes the Guardian article is wrong. She has started an online petition asking the author of the article to "return to the North East to write a more balanced and educated piece on the region".
#NEandProud and #100reasons trended in Newcastle and Sunderland. Interestingly they were also trending in London. Many of those tweeting in London were from the world of politics including Nick Varley who describes himself as a North East Ex-Pat living in North London who works in politics. "The North East may be poorer than London," Varley told BBC Trending, "but I get more smiles from strangers in a day in Durham, than in a year in London. That's priceless."
Writing about a region can be controversial and naturally leads to a reaction from those living there. Last year the BBC wrote a piece about the grim outlook for the Welsh valleys. It prompted a huge discussion online and led to a follow up piece about the reaction it provoked.
Reporting by Anne-Marie Tomchak
Have you subscribed the BBC Trending podcast? You can do so here via iTunes or here
All our stories are at BBC.com/trending