#BBCtrending: Is the 'world's luckiest man' being exploited?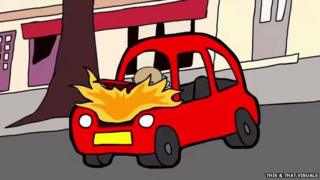 Why is the man from Croatia who cheated death seven times, then won the lottery, upset? Because of a cartoon about him going viral on YouTube.
Frano Selak has the kind of life story which is just begging to be made into a film. But now that it has, he's apparently unhappy with the way he has been portrayed.
Selak is an octogenarian music teacher from Croatia. His run of near escapes began back, he says, in 1957, when he plunged into the river on a bus.
According to interviews he has given, six more brushes with death followed. His train derailed and hurtled into a river, he walked away from not one but two exploding cars, and survived a plane crash by landing on a haystack after being thrown clear. A protruding tree saved him when he drove off a cliff - and he bounced back from being hit by a bus. Then, as if to prove that he was the luckiest - rather than unluckiest - man in the world, Selak won around $1m (£600,000) in a lottery, giving most of it away to friends and family.
His story is not independently verified but it has popped up on various news sites over the years, and provided inspiration to David Ransom, an animator in New York whose company is called This & That Visuals. "I was struggling to think of a new topic to do a video on and Frano's story came to me," he told the BBC. He uploaded the three-minute cartoon to YouTube at the start of May. It has been watched more than 1.2 million times.
But, according to reports in Croatia, the subject of the film is not impressed. The Zagreb-based daily Jutarnji List asked for his reaction - and Selak did not sound like "the happiest man in the world" of legend. "The Americans have no idea," he complained. "They drew a moustache on me and mixed up all my accidents. Maybe they will earn big money, while I live on a pension. At least send me a thousand dollars."
The BBC has not managed to reach Selak for comment. Newspaper reports suggest he is contemplating taking legal action, but David Ransom hopes it will not go that far. "I am very sorry that he was upset by his depiction," he says. "If he would like to set the record straight I would be more than happy to amend the video to more accurately represent his image, and add or remove any details he wants."
Reporting by Guy Delauney
Have you subscribed the BBC Trending podcast? You can do so here via iTunes or here
All our stories are at BBC.com/trending