#BBCtrending: Is the French national anthem 'racist'?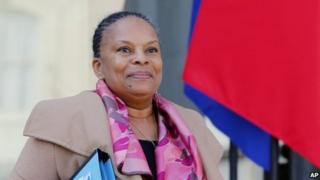 Race and the French national anthem have been discussed all week on Twitter and Facebook, after a French minister was criticised for not knowing the words.
It all started with a tweet. Following a ceremony commemorating the abolition of slavery, French Justice Minister Christiane Taubira was criticised by fellow politician Geoffroy Boulard for declining to sing the national anthem, La Marseillaise.
Boulard's tweet says: "Taubira isn't singing La Marseillaise under the pretext that she doesn't know the words. Resignation!" This ignited a conversation which trended on Twitter for several days around the hashtag #LaMarseillaise. For some, Christiane Taubira is a controversial figure associated with the radical left, and she was accused of deliberately not singing to make a political point. Others argued that the attack was racially motivated and that Christiane Taubira was being unfairly singled out (she is black and was born in French Guyana).
Taubira herself defended her decision not to sing by telling her Facebook followers, "some occasions are more suitable for contemplation… than stage karaoke". This didn't defuse the tension. Instead, the hashtag #karaokedestrade ("stage karaoke") began trending on Twitter and generated further criticism of Taubira.
"Christiane Taubira, the symbol of the left, who shows no respect towards French patriots. #karaokedestrade," wrote Jean-Paul Fournier. "It's one thing not to sing! But these words are unacceptable. #karaokedestrade" tweeted another user. The far-right National Front leader Marine Le Pen joined the criticism. Others defended Taubira by sharing pictures of high-profile French politicians, including presidents, who were not singing while the anthem was being played in public.
Was race a factor in this discussion? "To be black or white is not the problem," Geoffrey Boulard, the centre-right politician who started the discussion, told BBC Trending. "It's not a racist tweet. It's about national identity and national pride."
In fact, rows about La Marseillaise are nothing new in France. French football players are regularly condemned for not singing along heartily to the anthem. For others, the real problem is the song itself. Written in 1792 to rally French troops battling foreign armies, the refrain includes the phrase "may impure blood water our fields". The debate was revived on Wednesday when the French actor Lambert Wilson was asked about the most recent controversy. He described the lyrics as "terrible, bloody, racist and xenophobic" and called for them to be changed.
Wilson's remarks meant the #LaMarseillaise hashtag continued to trend, with many agreeing with his view and others taking offence. One tweet said: "Those trendy liberals can spit as much as they want on #Marseillaise, people are still attached to it and we are in a democracy."
Reporting by Estelle Doyle
There is more on this story from 10:30GMT on Saturday on BBC Trending radio, broadcast on BBC World Service.
Have you subscribed the BBC Trending podcast? You can do so here via iTunes or here
All our stories are at BBC.com/trending