#BBCtrending: The rise and fall of #WhyImVotingUkip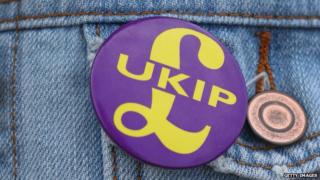 The hashtag #WhyImVotingUkip is trending with more than 60,000 tweets since late on Tuesday. It was started by a UKIP candidate but has since taken on life of its own.
"I was sitting around about to have some dinner," says Donna Edmunds, a UKIP candidate in the European elections for the south east, who was the first to use the hashtag. "It was a spur of the moment thing." On Thursday, the UK will vote in both European and local elections. Her eye was - of course - on doing anything she could to gain extra votes for herself and her party.
Her first tweet read: "Ukip is the ONLY party which wants to see Britain out of the EU, trading with the world again." Soon after, other UKIP candidates and supporters chimed in. "UKIP is the only party that wants the people to have their democratic rights back #WhyImVotingUkip," tweeted UKIP councillor Mike Baldock. Many others joined in with tweets explaining why they're planning to vote for the party.
But Twitter being Twitter, it wasn't long before the hashtag strayed from its original purpose - big time. Many began to use the hashtag as a way of mocking the party and its supporters. "#WhyImVotingUkip Because I once got stung by a wasp and I bet it was from the EU," for example. "Because I am sick of the unpredictable weather these damned gays keep inflicting on us," and so on.
UKIP has had some good results on Facebook and also on YouTube in the past - most famously a video in which UKIP leader Nigel Farage said EU President Herman van Rompuy had "the charisma of a damp rag" (the video has been watched more than a million times).
But it's been a difficult election campaign on Twitter for the party, with two candidates suspended for things they tweeted (one for calling Islam "evil") - and the party is often parodied on Twitter. The flipside of this, says Donna Edmunds, is that some UKIP candidates - herself included - have faced abuse on Twitter. She even considered deleting her account a couple of weeks ago, she says, making it all the more ironic that she ended up starting a trending hashtag.
Edmunds says she's "disappointed" the hashtag got hijacked by people making jokes, but she's not too fazed. "From the ones I saw, I wouldn't pay good money in a comedy club to hear them," she says. "I don't think any of the parties have cottoned on to the opportunities social media present. Last night was an experiment to see what we could do."
Reporting by Cordelia Hebblethwaite
Have you subscribed the BBC Trending podcast? You can do so here via iTunes or here
All our stories are at BBC.com/trending