#BBCtrending: 'We are being watched' say Egyptians on social media
BBC Trending
What's popular and why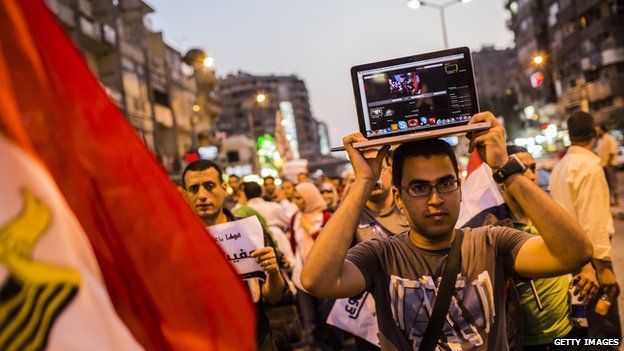 The Egyptian government has announced a plan to monitor social media for potential terrorist activity - to the alarm of many in the country.
"We are being watched" ( #احنا_متراقبين) is one of the top trending hashtags in Egypt right now. It's been used more than 46,000 times on Twitter since Saturday. It comes in response to a plan announced by the Interior Ministry to search Twitter and Facebook for signs of terrorist activity.
"We aim to hunt the explosive makers who target the innocent," said Abdel Fatah Uthman, a spokesman at the ministry on a television talk show. "We do not seek to interfere with anyone's privacy," he insisted. "The US listens in to phone calls, and supervises anyone who could threaten its national security," he added.
But many on social media in Egypt seemed unconvinced - and responded with anger or mockery. "Good morning, watchdogs, I have woken up" joked one user. "Will a terrorist tweet 'I made a bomb'?" another asked. Prominent journalist Majdi al-Jallad said monitoring social networks "contradicts the constitution".
The move comes just days before Egypt's newly elected leader, Abdul Fattah al-Sisi, is sworn in as president, and has been hailed as a "scientific achievement" by the government ministry. The new system will monitor influential activists, and people who "mobilise protests, strikes and sit-ins". Critics on Twitter fear it could curtail freedom of speech and be used as a tool of repression.
Is the plan cause for concern, or a legitimate response to the threat of terrorism? "It really depends on how governments use the information," says Jamie Bartlett, who specialises in social media and political movements at the think tank Demos. "Sometimes there are good reasons for governments to look at social media," he says, citing unfolding disasters and emergencies - like the 2011 London riots - as examples. Trying to predict terrorist attacks is far more problematic, however. "People use all sorts of language, so you don't know what you're looking for," he says. Clever users can start to game the system, and send out false signals, he explains.