#BBCtrending: Facebook and the cash from pro-Assad ads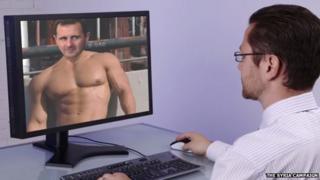 A charity is calling on Facebook to give away money it received for running adverts promoting Syrian President Bashar al-Assad's election campaign.
The ads - which have now been pulled by Facebook - were launched in May, and linked to a page called Sawa al-Assad. Sawa means "together", and the phrase was used as the president's campaign slogan.
The page itself remains live. It is a series of adverts promoting it on Facebook that have caused the controversy. Because the ads were paid for, the company will have received money for a campaign that promoted the Assad regime - and idea that has angered a charity called The Syria Campaign.
In response, it has created AdsForDictators.org - a website mocked up to look like Facebook, and containing an online petition. "They need to make bad money good," John Jackson, a director of the charity, told BBC Trending. "They should give the money to a reputable aid agency that is working to help Syrian refugees."
It is not known what the sum in question is, though given the brief time the advert ran for, it is unlikely to be substantial. Facebook remain tight-lipped on the matter, and will only say the adverts were not ordered from Syria - which would have breached the sanctions placed on the country - and that "as always, we take down ads that violate our policies".
Exactly which policies they contravene is unclear, however. No inflammatory language is used, and political advertising on Facebook is usually allowed. Indeed, ahead of the 2012 US presidential election it posted a list of tips to help campaigners take advantage of the platform.
Reporting by Sam Judah
Have you subscribed to the BBC Trending podcast? You can do so here via iTunes or here
All our stories are at BBC.com/trending