#BBCtrending: 10 words blocked on Weibo for Tiananmen anniversary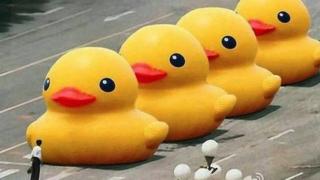 Dozens of words have been censored on social media in China on the 25th anniversary of the Tiananmen Square massacre.
Here are 10 terms blocked on Weibo - China's version of Twitter. Many are also barred on the Chinese search engine Baidu.
1. June 4 (六肆)
Error message: According to certain laws and regulations, parts of the search results are not displayed.
Many other ways of writing the date are also blocked - including 6-4 (六四) and the Roman numerals ⅥⅣ. Also June 4 incident (64事件)
2. 1989
1989 event (89事件) is also blocked
3. 25th anniversary (25周年)
4. Tiananmen
Both the simplified (天安门) and traditional (天安門) ways of writing this are blocked. The abbreviation TAM is also barred
5. Tank (坦克)
Also Tank Man and Wang Weilin (王维林) - the man sometimes named as being the unidentified man who stood in front of the tank
6. Square (广场)
7. Rebellion (暴乱)
8. Martial law (戒严)
9. Student leaders (学生领袖)
Also student movement (学运) and Beijing Autonomous University Students Union (高自联)
10. The wound in history (历史的伤口)
You can follow BBC Trending on Twitter @BBCtrending
All our stories are at bbc.com/trending