#BBCtrending: Miss USA v online feminism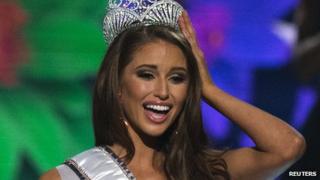 The winner of this year's Miss USA pageant has sparked outrage for advocating self-defence as a solution to sexual assault.
Beauty pageant contestants being attacked by feminists is nothing new. That may be one reason that these days, along with modelling various outfits, pageant competitors are quizzed about women's issues.
At this year's Miss USA contest on Sunday, Miss Nevada, Nia Sanchez, was asked a tricky question.
One of the judges of the competition, Rumer Willis, the daughter of US actor Bruce Willis, asked: "Recently Time Magazine said 19% of US undergraduate women are victims of sexual assault in college. Why has such a horrific epidemic been swept under the rug for so long and what can colleges do to combat this?"
Miss Nevada, 24, responded: "Myself as a fourth degree black belt, I learned from a young age that you need to be confident and be able to defend yourself and I think that's something we should start to implement for a lot of women."
The critical tweets began before the competition had even ended. "I'm sorry Nevada just lost my support. We should teach women self-defense to prevent sex crimes?" tweeted Maggie Miller. "Uh, how about we teach men not to rape."
One of the most shared tweets came from Elisa Benson of Cosmopolitan magazine: "I get that the college sexual assault problem can't be solved in 30 secs but still icky to pretend like self defense is the answer." Before long, the feminist hashtag #YesAllWomen was brought into the discussion. Safia Sallis-William, a mother of two in Kentucky tweeted: "Sad the new #MissUSA thinks that it's more important to teach women not to be raped than teach men not to rape them. #YesAllWomen."
Sanchez went on to win the competition - the world will meet her again at the Miss Universe pageant. But did her remark deserve such outrage? Some on Twitter said the use of #YesAllWomen - originally started as a feminist response to misogynist mass murders by Elliot Roger in California in May - was inappropriate. The actress and presenter Krisily Kennedy, who was crowned Miss Rhode Island USA in 2003, wrote: "Super sad to see the new Miss USA being torn apart by some of the #YesAllWomen supporters. Completely disappointed." Mike Ryan, an accountant in Philidelphia wrote: "If you tweet #YesAllWomen tweets about #MissUSA you are ignorant."
#YesAllWomen has been used 2.3 million times on Twitter since it was started in May.
Reporting by Anne-Marie Tomchak
You can follow BBC Trending on Twitter @BBCtrending
All our stories are at bbc.com/trending