#BBCtrending: #BritishValues... according to Twitter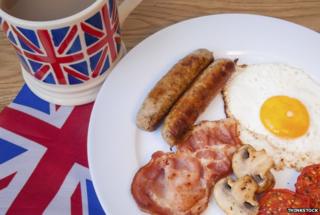 What are British values? The Twittersphere has its own answers.
England's Education Secretary Michael Gove has announced plans to promote "British values" in schools - including democracy, mutual respect and tolerance of different faiths. The proposal comes after the "Trojan Horse" scandal, in which a group of fundamentalist Muslims were alleged to be plotting to "takeover" some schools in Birmingham.
But many on Twitter have been joking about exactly what British values are - using the hashtag #BritishValues. There have been more than 25,000 tweets since Monday.
One of the most retweeted came from the @SoVeryBritish account which wrote: "Waiting for permission to leave after paying for something with the exact change #BritishValues." British Brand Marmite seized on the opportunity, and shared a photo of a jar of Marmite, with the simple words "Me".
Popular Twitter commentator @fleetstreetfox tweeted: "Today, Matthew, I will mainly be sitting in my garden drinking tea. #BritishValues." Some highlighted the seedier side of British culture. "#BritishValues Streets covered in vomiting youth every weekend," for example.
But not all the tweets were full of satire. Some used the hashtag to talk about political issues, or as an opportunity to have a dig at Michael Gove. Former Deputy Prime Minister John Prescott tweeted: "So what are Gove's #BritishValues? Brief against your colleagues, demoralise teachers and blame others for your mistakes?"
Twitter user @JamzLdn used the hashtag to mention Britain's colonial past and the current debate on immigration: "Invade the entire planet without asking, then complain about immigration #BritishValues."
Though the vast majority of the tweets focused on the comedic value of the hashtag, a few voices leapt to the defence of the Education Secretary. "#BritishValues Parliamentary supremacy, free speech, religious pluralism, sanctity of contract, my home is my castle, liberty. Not so hard," tweeted MEP Daniel Hannan, a member of the European Conservatives and Reformists Group.
Reporting by Ravin Sampat
You can follow BBC Trending on Twitter @BBCtrending
All our stories are at bbc.com/trending