#BBCtrending: Why is sexual harassment in Egypt so bad?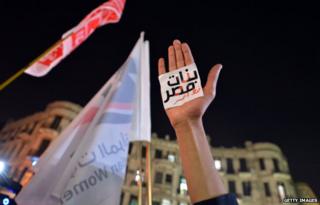 Why is sexual harassment so common in Egypt - and what can be done to stop it? These are the questions being discussed on a hashtag trending in Egypt.
Sexual harassment in Egypt has shot up the agenda after a shocking video which showed a woman being stripped naked and assaulted. It's believed to have been shot in Cairo's famous Tahrir Square, and has been watched by hundreds of thousands of people.
We first reported on the video on Monday here on BBC Trending. It's now prompting deep soul-searching on the reasons why women keep being attacked. A hashtag is trending in Egypt (أسباب_إنتشار_ظاهرة_التحرش), which translates as "Reasons for the Spread of the Harassment Phenomenon" (Arabic hashtags are often very long). It's been used more than 7,000 times on Twitter since Wednesday.
Common theories put forward on the hashtag include the popularity of "obscene" films. It's not Hollywood movies that are singled out, but locally-made ones, which are deemed too "racy", or seen to glorify men who behave in a sexually aggressive way. Others cite a lack of observance of Islam. Some of the tweets criticise women for the way they dress or behave. Others say men should be better at "controlling themselves".
Most of the tweets are from inside Egypt, but there's also been some discussion in Saudi Arabia, the United Arab Emirates and elsewhere. More than 70% of the comments are from men, but it was a woman who started the hashtag. "All the men must know that this could happen to anyone - to your daughter, your mother, or your sister," she told BBC Trending. "We are trying to get social media to talk about this and think about it... What can we do to stop this crime in our society?" She doesn't want to use her real name in case she is harassed herself.
In the past few months, there have been a number of campaigns on social media aimed at raising awareness about Egypt's sexual assault problem - but nothing has had anything like the impact of this latest video. The new president Abdul Fattah al-Sisi even went to visit the woman in hospital. "The video has helped put this message on mainstream media," says Kholoud Saber, a psychologist who works with survivors of sexual assaults. But Saber has concerns about the privacy of the woman, whose face has been shown by some media in Egypt. The fact that so many have watched images of her naked body during the attack could add to her distress, she fears.
Many of those using the hashtag are giving "excuses" not explanations, argues Saber. "Ours is a culture that does not respect women and does not respect women's bodies," she says. "We need to change this kind of culture as a whole." A demonstration against rape and sexual violence - organised on Facebook - is due to take place in Cairo at the weekend.
Reporting by Cordelia Hebblethwaite
BBC Arabic is holding a Google Hangout on sexual violence in Egypt on Friday at 12:00 GMT. You can watch it live here.
All our stories are at bbc.com/trending