#BBCtrending: Sandwiches, codes and salutes in Thailand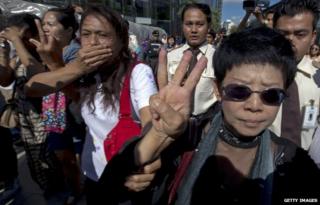 What do sandwiches have to do with democracy? And why has the Hunger Games three-finger salute taken off in Thailand?
There have been 12 coups in recent history in Thailand. But the latest - three weeks ago - was the first in the social media age. The military rulers now in charge are monitoring social media closely - meaning those who oppose the new regime have had to get inventive.
The sandwich-eaters
Sandwiches are not a particularly Thai food, but they've become very important in Thailand in the past few days. With political gatherings of more than five people banned, "sandwich parties" - organised via social media - have taken off. The first of these took place at Kasetsart University in Bangkok on 6 June.
State-run newspapers have warned people against eating sandwiches, and a senior police chief said they're keeping a close eye on the sandwich-eaters. Eating sandwiches is not illegal per se, he said, but if sandwich-eating is being used as a front - when the real intention is to criticise the coup - then that would be.
"Sandwiches" will soon be replaced by another "code word", joked some on social media. Sticky rice, anyone?
Three-finger salute
For the uninitiated, the three-finger salute in the sci-fi blockbuster The Hunger Games is a sign of rebellion against totalitarian rule. It's unclear how it started, but it's now being used by protesters in Thailand as a way of displaying opposition to the coup.
"Raising three fingers has become a symbol in calling for fundamental political rights," wrote one opposition activist on his Facebook page. He called on people to raise "three fingers, three times a day".
TV interruptions
Since the coup on 22 May, TV programmes have frequently been interrupted by the army listing names of people they're summoning for questioning. Many active social media users have been detained - along with those associated with the previous government. One high-profile figure on Twitter, Pravit Rojanaphruk, tweeted the entire experience of his own summoning for questioning. All those detained have been forced to sign an agreement which states they will not criticise the military government. Some have been charged.
Thailand's charge d'affaires in the UK, Nadhavathna Krishnamra, defended the measures. "In this initial period... people are being requested to avoid comments that may further inflame political opinion," he told BBC Trending. Facebook was shut down briefly in Thailand, but it soon came back online and all the major social networks remain free for people to use, he said.
Others disagree. "You can't really say it's a free space unless you can really use it to express opinions freely," Verapat Pariyawong, legal advisor to the ousted former deputy prime minister told BBC Trending. With 70,000 followers on Facebook, he's among those who've been summoned by the military. "By creating a sense of fear among the people, they are not going to succeed in silencing people - there will be backlashes against them," he says. "And even if they do silence Thai people, the rest of the world will still talk about them."
More on this story on BBC Trending radio on BBC World Service at 10:30 GMT (11:30 BST) on Saturday. You can listen here, or subscribe to the free BBC Trending podcast here.
All our stories are at bbc.com/trending