#BBCtrending: India's controversial World Cup 'squad'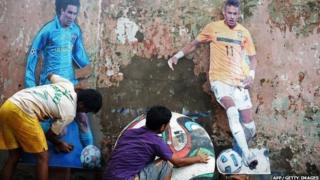 India isn't sending any footballers to the World Cup - the team haven't qualified since 1950 - but that doesn't mean they won't be represented. Six parliamentarians are being criticised on social media for their planned trip to Brazil using state funds.
Indian Twitter users used the hashtag #BJPFifaMasti more than 10,000 times since Thursday. The hashtag expresses irritation with the BJP political party for letting MPs and ministers travel to Brazil for what people are referring to as "masti" or "fun". The six individuals are Members of the Legislative Assembly (MLAs) from Goa state, which is governed by the same party that recently won the national elections too, the BJP.
The criticism on social media has been fierce. A rival political party tweeted: "More than 30% of Indians r poor & not getting food for 2 times, while 6 Goa BJP MLA's spending tax payers money in Brazil. #BJPFifaMasti". A famous parody account tweeted: "Now that Goa MLAs are going for the study tour to Brazil, they must learn Samba Dance. We must preserve all ancient cultures. #BJPFifaMasti". Another widely shared tweet said: "Poor Goa MLAs have such bad timing. Wanted to learn traffic management but will now have to settle for watching World Cup. #BJPFifaMasti."
So were the six off to Brazil simply to watch the World Cup? Goa state, which has cultural ties to Brazil as a former Portuguese colony, is promoting football as a sport. The trip was officially described as a "study tour" to learn about traffic management and tourism. According to opposition politicians the trip cost 89 lakh rupees ($150,000; £90,000). But they weren't intending to avoid football matches. A newspaper reported that the delegation would watch the first and second quarter-final clash at the Maracana stadium in Rio de Janeiro, and then attend the semi-finals.
This isn't the first time that Indian politicians have been criticised for going on foreign tours. "These tours have happened in the past using public money," says Vikas Pandey of BBC Monitoring. "But Indians wouldn't necessarily know about it. They are now wired into the 24-hour news cycle and social media."
The hashtag seems to have had an effect. Since it started trending, the six individuals have said that they will bear the expenses of the trip from their own pockets, rather than the taxpayer.
Reporting by Ravin Sampat
You can follow BBC Trending on Twitter @BBCtrending
All our stories are at bbc.com/trending