#BBCtrending: 'We will harass men' trends in Egypt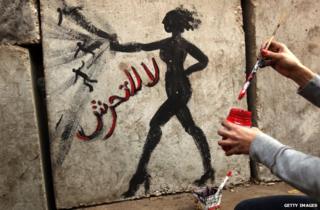 The hashtag "We will harass men" is trending in Egypt - it's been used more than 20,000 times on Twitter. Why?
Imagine a world where most sexual assaults were carried out by women on men, rather than vice-versa. That's what many in Egypt are doing right now, using the hashtag #هنتحرش_بالرجال, which translates as "we will harass men" or "we will sexually harass men".
It's the latest - and a somewhat surreal - twist to the debate raging Egypt over sexual harassment, which we have been covering on this blog after hundreds of thousands watched a shocking video of a woman stripped naked and assaulted.
The "We will harass" men trend is mostly tongue-in-cheek, with both women and men having a dig at attitudes to sexual harassment in Egypt. Some joke that men are being harassed because of their "tight trousers". Others that men are asking for it if they don't wear the veil.
The hashtag was started by a woman, who describes herself as a student in Egyptology, early on Sunday, and has been one of top trends throughout Monday. One female blogger tweeted: "LOL Egypt's top trending hashtag is 'we will sexually harass men'. Girls taking their revenge on Twitter."
But not everyone is amused. "Close this hashtag - you are immoral," tweeted one man. "You are disgusting. What a stinky women-orientated society," tweeted another. Some women objected too: "I dislike this hashtag, you can't solve a problem with the same level of thinking that created it," tweeted one woman.
You can follow BBC Trending on Twitter @BBCtrending
All our stories are at bbc.com/trending