#BBCtrending: There are no giraffes in Ghana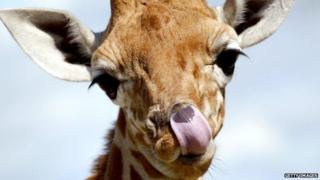 That awkward moment when thousands of people turn on a major US airline to tell them there are no giraffes in an African country.
There is normally a landmark or iconic image that one associates with a country. Think London, you may think of Buckingham Palace. Think Rio de Janeiro, you might picture the Christ the Redeemer statue. But what about Ghana?
When Delta, one of the main US airlines, decided to congratulate the US football team for their victory over Ghana in the World Cup last night, they tweeted the number of goals each team scored, superimposed over a picture of the Statue of Liberty - for the US. And for Ghana, the image they chose was of a giraffe.
The only problem here is, there are no giraffes in Ghana. So Delta's tweet was perceived by many as a stereotypical view of Ghana and Africa as a whole. Delta later deleted their tweet and apologised saying: "We're sorry for our choice of photo in our previous tweet. Best of luck to all teams."
The apology came too late to stop a tirade of criticism online, however. At one end of the spectrum, social media users accused Delta of being "racist pigs". A Twitter user tracked down the image Delta had used as a stock photo from the Masai Mara - on the other side of the African continent, in Kenya. A Twitter user in Abuja, Nigeria said: "If you're gonna talk about something at least take 10 seconds to study it a little. @Delta Africa is not a big bush full of wild Animals." Another tweet from Accra, the Ghanaian capital, said: "Ok so @Delta u think d best way to depict us is using a picture of a giraffe? Anyway that was a beautiful sight."
According to the International Union for the Conservation of Nature (IUCN), a 2010 study found that there are no giraffes in Ghana. The animals remain in the wild in other parts of Africa including Botswana and Cameroon and have been introduced in Rwanda and Swaziland.
Reporting by Ravin Sampat
You can follow BBC Trending on Twitter @BBCtrending
All our stories are at bbc.com/trending