#BBCtrending: Suarez 'bite': Social media reacts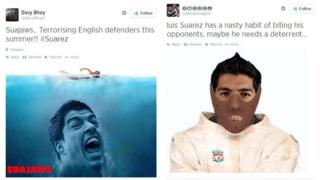 Social media exploded after Luis Suarez's suspected "bite" of Giorgio Chiellini during Tuesday's World Cup game between Uruguay and Italy.
Football world governing body, Fifa, is investigating the alleged "biting". If found guilty, Suarez faces a long ban.
Here are some of the many ways social media reacted to the incident.
The wrong Suarez
A man from Buenos Aires named Diego Suarez - who happens to have the Twitter handle @Suarez - found himself bombarded with messages after the incident. "Please stop," he pleaded in a series of tweets. " I am not Uruguayan, I am not Luis Suarez.... There are many Suarez's in the world, I am not Luis Suarez please."
For the record, the Twitter handle for the real Luis Suarez is @luis16suarez. He has more than three million followers.
Hashtag heaven
Here are some of the trending terms and hashtags - together with the number of times they have been used in the past day:
Suarez and #Suarez - 3.1 million
#BanSuarez - 55,000
#Bansuarezforlife - 2,5000
#Bite - 6,500
#Suarezbite - 5,000
Mike Tyson - 25,000
Brands 'bite'
Dozens of brands have jumped on board, hoping to capitalise on the incident. #EatASnickers, for example trended, after the company tweeted: "Hey @luis16suarez. Next time you're hungry just grab a Snickers," together with a picture saying, "More satisfying than Italian."
McDonald's in Uruguay offered him a Big Mac , and Nando's in the UK offered him a giant platter.
Meme-tastic
The incident was like a gift from heaven to the world of internet memes - playful images created by users with takes on Jaws, Hannibal Lecter and vampires were among the favourites.
You can follow BBC Trending on Twitter @BBCtrending
All our stories are at bbc.com/trending