#BBCtrending: Is there a distinctive 'Indian English'?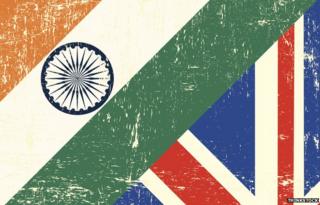 Is there a distinctive "Indian English"? Yes, according to a hashtag that's been trending in the country - #IndianEnglish.
"Open the windows and let the atmosphere come in."
"Today is my Happy Birthday."
These are a couple of examples being shared on the hashtag #IndianEnglish. Since it took off early on Thursday, it's been used around 20,000 times in India.
It was started by 22-year-old Ojas Korde, a masters student in public relations from Mumbai. "On Twitter, we take things lightly," he told BBC Trending.
Indians often translate directly from Hindi when they speak English, he says. "It sounds really funny."
Other examples shared on the hashtag include:
"*Giving directions* Go straight you will get a circle. Take a round turn from that circle"
"Please revert back"
"I hate sound pollution due to traffic. It's very horny" [a reference to the sound of horns honking]
"I have to travel out of station" [away from home]
"I've invited our backside neighbour for dinner" [from the back of the building]
Many of the most-shared tweets are images of street signs, shops and the like, with dubious spelling and grammar (many have been collated here).
"Indians are great at making fun of ourselves," says John Thomas, a well-known former journalist in India.
The hashtag is not Indians taking pride in the uniqueness of Indian English, he says - far from it. Indians are highly class conscious, he says, and aspire to speaking "correct" English. "An ideal Indian of class should be able to recite Wordsworth as well as literature of his mother tongue."
That said, one tweet joked: "British messed our motherland we mess up their mothertongue #IndianEnglish"
You can follow BBC Trending on Twitter @BBCtrending
All our stories are at bbc.com/trending