#BBCtrending: Americans scoff at Isis Twitter threats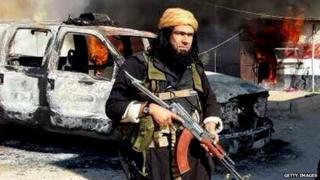 When Americans were threatened with calamity on Twitter, many had a tart response - yeah, right.
The madness all started on Friday. Supporters of Islamic State of Syria and the Levant (Isis), the militant group that is leading a Sunni revolt in northern Syria and Iraq, used Twitter to take aim at the US public with the hashtag #CalamityWillBefallUS.
@ansaar999, a Twitter account that appears to have ties to Isis, tweeted a guideline for a "Warning to American People" campaign to its 23,400 followers, which included advice to send tweets in English and use images when possible, as well as where to find pre-written threats.
Among the recurring lines in the subsequent tweets: "If the United States bomb Iraq, every American citizen is a legitimate target for us" and "Every American doctor working in any country will be slaughtered if America attack Iraq".
Included in the messages were graphic images of dead and grieving US soldiers, the 9/11 attack on the World Trade Center and black-clad Isis soldiers.
The tweets were sent to US politicians and media personalities, as well as celebrities with large social media followings such as Oprah Winfrey and talk show host Jimmy Kimmel.
So what was the motivation behind this social media onslaught?
The Investigative Project on Terrorism's John Rossomando and Ravi Kumar write that Isis's Twitter campaign "may be a combination of recruiting propaganda and an attempt to drive public support down for any future American strikes".
If it's the latter, however, the US response did not go quite according to plan. Twitter users in the US quickly adopted the calamity hashtag to rebuff the Isis threats and offer a few of their own.
Theresa Giarratano quoted a passage from the Bible, "Vengeance is Mine, I will repay saith the Lord", along with a graphic containing the line: "Keep calm and death to Islam".
"We're YOUR nightmare," tweets @dernemax. "Every time you hear a plane or helicopter you will fear death from above." His message was accompanied by a photo of US soldiers with faces painted like skulls.
When #BBCTrending asked @dernemax, an American who preferred to go only by his Twitter handle, why he took to Twitter to reply, he said he was angered by seeing photos of dead US soldiers.
"I got real frustrated with how many people were tweeting against America," he said.
Isis is "all talk and propaganda", he added. "They try to intimidate and scare people using social media. I wanted them to know it's not working."
The US government even got into the action, as the state department's Center for Strategic Counterterrorism Communications (CSCC) employed a Twitter handle it uses to engage US critics in the Middle East, @ThinkAgain_DOS.
When @Hzam_nesf tweeted: "We say to the US Government and swear to God that we will enter the White House and come to your cities", CSCC replied: "Like you haven't threatened us many times before! Btw, Osama officially retired from terrorism!"
As Americans might say: Oh, snap.
By Tuesday afternoon, there had been almost 100,000 mentions of the calamity hashtag, with 50% coming from Saudi Arabia - considered a hotbed of Isis support - and 23% from the US. It was not so much a globe debate as a shouting match between residents of two nations.
The #CalamityWillBefallUS had become a roiling sea of threats and counter-threats, graphic images and nonsensical links to Youtube music videos. It's the American way.
Reporting by Anthony Zurcher
You can follow BBC Trending on Twitter @BBCtrending
All our stories are at bbc.com/trending