#BBCtrending: What are #RamadanProblems?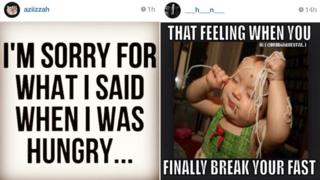 You've probably heard of #FirstWorldProblems, but what about #RamadanProblems?
Ramadan started last weekend, and Muslims around the world are fasting from dawn to sunset. Thousands of people have been sharing their experience using the hashtag #RamadanProblems. It's a trend that runs right across Twitter, Instagram, Facebook, Vine and more.
Just like the commonly used #FirstWorldProblems, many of the tweets are jokey in tone. "It's about Muslims who are fasting who don't take themselves too seriously," says Uzma Atcha from Dubai, who has been using the hashtag, "It sort of shows the world that we're regular people - we go through the same struggles."
The hashtag has been around for a while but has "exploded on the Twittersphere" this year, she says. The US, the UK, Pakistan, Canada and the United Arab Emirates are the top countries using the hashtag.
Some are sharing tips and practical advice. Some of the discussion is aimed at helping non-Muslims get a better understanding of Ramadan. But perhaps unsurprisingly, a huge amount of the conversation is about hunger.
---
"These fasts are not very fast are they #RamadanProblems"
"I think I just watched my clock go from 2:54 to 2:53. I'm not joking #RamadanProblems"
"Staring at the fridge like it's your ex #Ramadanproblems"
"RamadanProblems when you walk around and see food instead of people"
"Had one of those 'really, not even water?!' conversations today #Ramadanproblems"
"RamadanProblems: the only time I have a date every night #Ramadanproblems"
---
There are lots of big Ramadan trends this year. The term "Happy Fasting" has been used almost 200,000 times, for example.
Social media is building a sense of pride and community among Muslims around the world at Ramadan, says a journalist and cultural critic Laila Alawa who organised a discussion about the hashtag #RamadanProblems.
Countless Ramadan apps have been launched. There is a Twitter handle called Ramadan Tips and a Facebook page, Productive Muslim, with more than a million "likes". Many mosques and Muslim scholars are using social media extensively.
Twitter has got in on it too, introducing Ramadan "hashflags" - similar to those being used in the World Cup. If you use #Ramadan or #Eid in English or Arabic, a crescent moon icon or Arabic calligraphy appears beside the hashtag.
More on #RamadanProblems on BBC Trending radio on BBC World Service at 10:30 GMT on Saturday. You can also subscribe to the BBC Trending podcast