#BBCtrending: 'I'm single because of the bus'
By BBC Trending
What's popular and why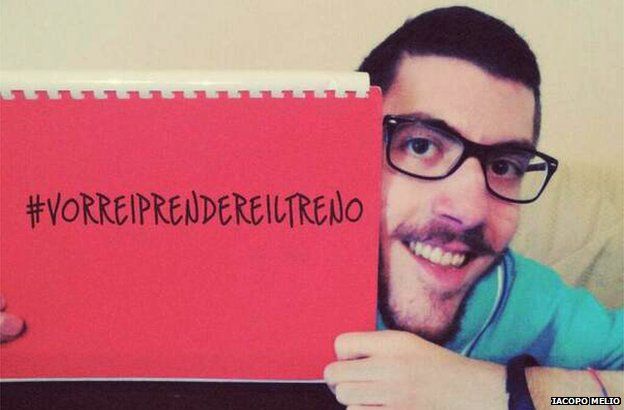 A student has sparked a trend calling for better access to public transport for people with disabilities in Italy. He - and many others - are using the hashtag #VorreiPrendereilTreno, or "I Would Like to Take the Train".
Italians across the country are sharing photos of themselves holding signs saying, "I Would Like to Take the Train". These include people with disabilities and without.
"This is not my battle, but a battle for everyone," 22-year-old student Iacopo Melio told BBC Trending. Melio, who lives near Florence, started the trend a little over two weeks ago when he happened to see a tweet from Italy's former Education Minister Maria Chiara Carrozza.
In that tweet Carrozza wrote about the "magnificent" early morning train she was on, together with the hashtag #ITakeTheTrain. Melio replied, explaining how difficult it is for people with disabilities to take the train, because so few are accessible. He included the hashtag #VorreiPrendereilTreno, which translates as "I Would Like to Take the Train". It's been used almost 5,000 times since.
Melio followed this up with a blog post, addressed to politicians, explaining how hard it is for someone in wheelchair - as he is - to take the bus and how this hampers his ability to socialise and live a full life. "I'm single because of the bus," he wrote. "Politicians help me!"
Melio says he needs to call the station a whole day in advance to find out if there will be a train that's accessible to him. Lots of people with disabilities have shared similar stories. And many without disabilities have joined in the discussion. "A world where we can land on the moon, but you're not able to take a train? We are fighting with you," was one of the many supportive tweets.
Melio says he never expected anything like the response he's had, but now he's got people's attention, he wants to keep the pressure on. "It's important that this battle does not end here," he says. "We need concrete results, we need solutions."