#BBCtrending: Potato salad Kickstarter stokes internet ire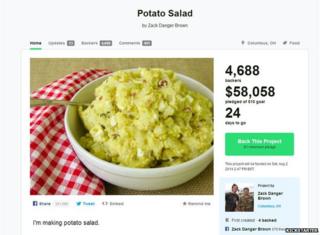 One hungry man on a mission has now become an internet-wide obsession.
This week, Ohio man Zach Brown turned to crowdfunding to help fund a modest goal. He set up a Kickstarter page to help him make potato salad.
Not, let's be clear, an artisanal potato salad company. Not a new line of potato-salad flavourings influenced by his global travels, or a documentary about the history of potato salad. He just wanted to make a tasty side, but lacked the cash for basic ingredients.
He set a goal of $10 (£5.84). That's low considering that the majority of successful Kickstarter projects raise between $1,000 and $9,999, but steep for homemade potato salad. But the humble and slightly ridiculous request - Brown promised to say the name of each backer aloud as he made the salad - took off. Five days into his challenge, Brown has raised almost $60,000 (£35,000), with most donors giving $4 or less.
Some were inspired to start a fundraiser of their own. "A Kickstarter to line up every person who supported the potato salad Kickstarter for a sound slap," said writer Ed Yong. A UK-based Kickstarter stating that "potato salad is basically just a fallback for when people with taste have eaten all the coleslaw," has thus far raised only £33 ($56).
Others tried to piggyback off the trend for more worthy causes. "So Internet, we can crowdfund $22K some random potato salad, can I get $1500 to tech outfit a special ed classroom?" wrote one, linking to a request on the site GoFundMe,
Indeed, while more than 3,600 people were moved to donate to the potato salad cause, many following along online are less than impressed. "If you give money to some potato salad making hipster doofus instead of to say, cancer research, you should die in a fire," wrote one.
Brown himself admitted that the popularity had caught him by surprise. While participating in a Reddit Ask Me Anything, he wrote: "I never thought it would go this far. Ten dollars seemed like a good, conservative goal. I think the thing people are responding to is the opportunity to come together around something equal parts absurd and mundane."
Reporting by Kate Dailey
You can follow BBC Trending on Twitter @BBCtrending
All our stories are at bbc.com/trending