#BBCtrending: Venezuela's airport 'breathing' tax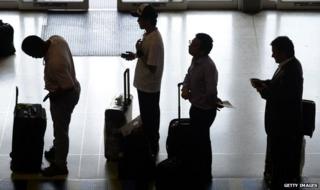 The biggest international airport in Venezuela is charging a fee for the right to inhale clean air - and social media users are not happy.
We're used to a seemingly endless range of taxes and surcharges when we fly - passenger taxes, departure taxes, fuel levies. But Maiquetia International Airport in Caracas has taken this a step further - passengers flying out now have to pay 127 bolivars tax (£12; $20) for the air they breathe.
This is to cover the cost of a newly-installed system which uses ozone to purify the building's air conditioning system. A press release from the Ministry of Water and Air Transport says it's the first airport in South America and the Caribbean to use the technology, which it claims will eliminate bacterial growth to "protect the health of travellers," as well as deodorizing and sanitising the building.
But with tickets out of the country already expensive and scarce because of Venezuela's economic crisis, many on social media have responded to the tax with both humour and outrage.
Radio presenter Daniel Martínez tweeted: "Could you explain to me the ozone thing in Maiquetia? The toilets don't have water, the air-con is broken, there are stray dogs inside the airport, but there's ozone?"
"Soon we will be charged for the 'good gas'" was another tweet - a rueful reference to the tear gas that the police often use on opposition protesters. The satirical news blog El Chiguire Bipolar ran the headline: "Maiquetia Airport unveils robot that puts you upside-down and takes your money."
Some Venezuelans on social media fear the tax could end up being a new source of corruption. Others see it as evidence of how short of cash the airport is. Most international airlines have reduced the number of flights to the country because of a financial dispute with the Venezuelan government.
Depending who you ask, the tax is funny, infuriating, or just one more surreal aspect of a country that has the biggest oil reserves in the world, yet at the same time has shortages of toilet paper and sugar.
Reporting by Daniel Pardo
You can follow BBC Trending on Twitter @BBCtrending
All our stories are at bbc.com/trending