#BBCtrending: Is #Jadapose a social media low?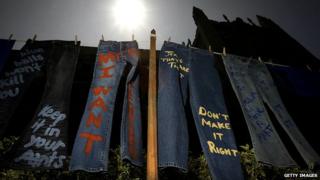 A sad but common story about a sexually assaulted teenager took a cruel turn in the past few days. Now online activists are striking back.
It has become a frustratingly familiar tale. A girl is drunk and maybe drugged at a party, only to find out later that she was sexually assaulted - and that evidence of her assault is all over social media. It happened in Steubenville, Ohio. It happened to a student of Virginia's James Madison University. And now, a 16-year-old girl in Houston is saying it happened to her.
Only this time, the photo of her passed out and naked from the waist down hasn't just circulated on Twitter and text messages. It's become a meme.
Jada, who has identified herself only by her first name, went to the news media to tell her story after the photo was widely circulated among her peers.
"There's no point in hiding," she told Houston's KHOU news. "Everybody has already seen my face and my body, but that's not what I am and who I am."
The day the report aired, #jadapose was trending on Twitter in Houston. It's been used more than 30,000 times since across the US.
The hashtag was attached to photos of people replicating the shot that Jada says is evidence of a crime. (The Houston police are investigating the original incident.)
One user made a Vine video, singing an improvised song over a photo of three men replicating the pose. It has been retweeted over 100 times. In a separate tweet, and after some criticism, that user wrote: "If you don't know what really happened don't comment on it."
But there are only a few examples of the mocking photos left on Twitter and Instagram. Instead, the hashtag now attracts thousands of messages denouncing the meme.
A search for the hashtag #Jadapose is more likely to bring up a new kind of photo - women posing with their arms flexed, a measure of solidarity and a message to Jada to stay strong. There are also several hashtags - #StandWithJada, #Jadacounterpose and #JusticeforJada - promoting an anti-rape message.
Reporting by Kate Dailey
You can follow BBC Trending on Twitter @BBCtrending
All our stories are at bbc.com/trending