#BBCtrending: Race at issue in first lady comparison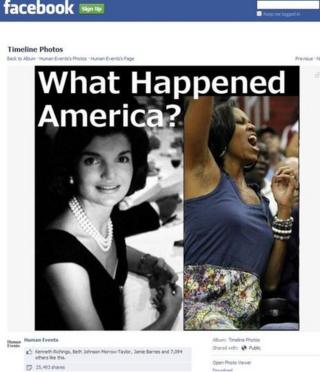 On the left is a black-and-white photo of Jacqueline Kennedy, wife of President John F Kennedy. She sits at what appears to be a formal dinner table, wearing a dark dress and a pearl necklace. The lighting casts a shadow on her face, creating a mysterious allure.
The colour photo on the right is of First Lady Michelle Obama cheering at a basketball game. She leans to the left, eyes squeezed shut and mouth wide. Her right arm is raised, armpit exposed. She's in a blue tank top and a skirt that looks like a paint-splattered artist's smock.
Superimposed on the photos in stark white text: "What Happened America?"
The right-leaning website Human Events posted this image to its Facebook page on 18 June, and it has received more than 25,000 shares and 7,000 likes.
The picture reflects a consistent line of attack from conservatives who contend that Barack Obama has diminished the presidency. What happened? Nothing good, is the implied answer. The fact that Kennedy was a Democrat as well seems to make little difference.
In the more than 2,700 comments on the post, the conservative-liberal divide in US politics is set in sharp contrast.
"Jackie had a grace, elegance and humility that our current first lady doesn't have," writes Niki Tshibaka.
"No class, doesn't know how to dress even though we're paying someone to dress her, can't shave under her arms, thinks she's a TV star," writes Brenda Bennett.
"What I see here is FREEDOM (in many ways)," writes Kim Hunt. "Freedom to stand, be seen and heard, freedom to be herself."
"Mrs Obama is a real woman who tackles real issues like the health of children and education," writes Jean Reynolds.
Caustic political debates are nothing new in US politics, notes first lady historian Katherine Jellison, but Ms Kennedy was more insulated from the fray.
"The kind of image control that the Kennedy family was able to exercise just isn't possible anymore," the Ohio University professor says.
The irony is that Ms Obama is one of the more popular first ladies of modern times. While her two predecessors saw their favourability ratings decline during their husbands' terms in office, Ms Obama's approval has held steady around 68%.
Jellison adds that the real revelation from the Facebook image is how white and black women are portrayed in US society. Ms Kennedy is "demure and deferential", while Ms Obama is "boisterous".
"Ideas about African-American women being more assertive, speaking louder, all of those stereotypes are very much coming into play here," she says.
Reporting by Anthony Zurcher
You can follow BBC Trending on Twitter @BBCtrending
All our stories are at bbc.com/trending