#BBCtrending: The boy who smiled for Brazil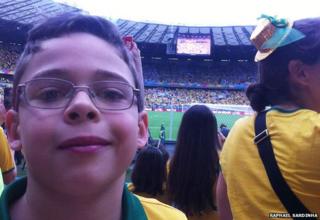 An image of a boy crying during Brazil's 7-1 defeat to Germany in the World Cup semi-final has captured the attention of the world - even prompting his father to respond with a picture of him smiling before the game.
As Germany was piling on the goals on Tuesday, cameras showed an inconsolable Brazilian boy in Mineirao stadium shedding tears into his drink, barely able to breathe and hiding his face behind his hands. The boy's copious weeping quickly went viral in Vine videos, GIFs and tweets, on a record breaking day for social media.
"Seeing a weeping child broke my heart. I wonder if Brazil would've put more effort if they saw that boy's face," was one tweet. "Not a soccer fan but teared up when they showed that little boy hysterically sobbing after a goal... Brazil win for that weeping child," was another.
Stunned by the global reaction, the boy's father - Raphael Sardinha - has uploaded a picture on Facebook showing young Tomaz smiling before the game. "After seeing my son's crying in various national and international media outlets, I decided to post this photo," he wrote.
"I'll repeat what I told Tomaz, as he sobbed after Germany's fifth goal: this is just a game. It tears us apart, but it is only a game," he added. "It is sad, as a father, to see my son suffer like this. But certainly it is not the last time, and it won't be his last World Cup. With his good skills and left foot, maybe one day he will become a player and score seven goals against Germany."
He also raised concerns about the intense media coverage his son was getting, saying that the boy's weeping "belongs to himself only" - not to the world's media. "What remains is a reflection on how a child's sincere crying represents us all in an age of excess information, instantaneous emotions and artificial feelings."
Despite his concerns, Tomaz has featured in TV interviews in Brazil. "When I got to the stadium, I was quite positive that Brazil would win 1-0, but it would be hard, because the team is not good," he told Globo TV. "It took me a while to believe Brazil was losing 4-0, I thought it was a nightmare."
Reporting by Daniel Gallas
You can follow BBC Trending on Twitter @BBCtrending
All our stories are at bbc.com/trending