#BBCtrending: Criticising Israel, avoiding anti-Semitism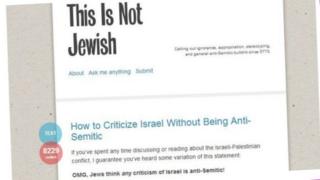 "How to criticise Israel without being anti-Semitic" - that's the title of a blog post that's being widely shared as the death toll in Gaza rises.
The blog begins like this: "If you've spent any time discussing or reading about the Israeli-Palestinian conflict, I guarantee you've heard some variation of this statement: OMG, Jews think any criticism of Israel is anti-Semitic!"
It includes 19 "tips" for anyone who wants to criticise Israel - mainly advice on what to avoid. For example: "Don't say 'the Jews' when you mean Israel," or "Don't say: 'I can't be anti-Semitic, I have Jewish friends!'" It warns against stereotypes, and "expansive language" - such as referring to Israelis as "bloodthirsty". The post also includes detailed discussion of the meaning of the word "Zionist" and much more.
It's been shared particularly widely in the past day or so, with many referring to Gaza and Israel. It's had more than 8,000 "notes" on Tumblr, and has been shared tens of thousands of times on Facebook, Twitter, Reddit and elsewhere. But - though there's no date stamp on the blog - it's clear (from the date of some of the shares) that it was written well over a year ago. In short - as is quite common on social media - it's looped round and made a comeback.
The top countries sharing the blog on Twitter appear to be the US, the UK and Sweden. "100% required reading," was one comment. "So important right now," was another. Interestingly, it's not made much of an impact on social media in Israel. One of the few commenting there wrote: "If you're gonna be a liberal douche bag, here's 'How to criticize Israel Without Being Anti-Semitic."
There is no name on the Tumblr, and the author has - as yet - not responded to our request for an interview. From other posts on the blog, it's clear the blogger is an American convert to Judaism.
The blog also includes a counterpoint post, "How to Support Israel Without Being Racist", with a similar list of points to avoid. "Don't call Palestinians 'animals' or 'savages'," and "Don't say 'Arab' when you mean Palestinian," for example. It concludes: "If you expect Palestinians and their allies not to be anti-Semitic, you'd better extend the same courtesy and not be racist."
You can follow BBC Trending on Twitter @BBCtrending
All our stories are at bbc.com/trending