#BBCtrending: One Direction's Zayn Malik tweets #FreePalestine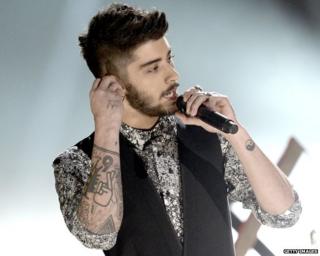 One Direction's Zayn Malik is the latest in a series of celebrities to tweet in support of Palestinians - prompting speculation about whether he, like other celebrities, will delete his comment.
Malik usually avoids politics and this tweet was as short as it could be. "#FreePalestine" he tweeted late on Sunday to his 13 million followers. It's been retweeted more than 150,000 times since then. #FreePalestine is one of the biggest hashtags used in relation to current conflict in the Middle East - used more than two million times in the past month. But there's arguably nothing more powerful than celebrity endorsement.
Many welcomed his two-word foray into politics. "One Direction's @ZaynMalik tweets #FreePalestine. Who needs Justin Bieber," was one tweet. "I am so proud of you," wrote another fan.
Many in Israel were not impressed however. "Please tell me this is just a nightmare," tweeted one of around 3,000 people using the specially-created hashtag #ZaynYouHaveFansinIsrael."You always made me smile but now u make me cry!!" tweeted another fan there.
There have also been a few hundred tweets on the hashtag #ThanksZaynFromIsrael - though many of these are sarcastic, rather than supportive. It's reported that he's also received a handful of aggressive and threatening tweets.
Zayn Malik is the latest in a relatively long list of celebrities who have tweeted to express solidarity with Palestinians in Gaza. His tweet is still there. But many others swiftly deleted theirs:
Last week, US actress and singer Selena Gomez posted an image on her Instagram page with the words, "It's about humanity. Pray for Gaza." It prompted a number of insulting comments - "you have a nice place in hell waiting for you," for example - but also 650,000 "likes".
You can follow BBC Trending on Twitter @BBCtrending
All our stories are at bbc.com/trending