#BBCtrending: Jeremy Bowen and the Twitter conspiracy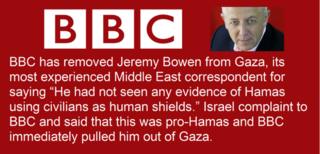 The absence of Jeremy Bowen, the BBC's Middle East editor, from recent news bulletins has spawned a conspiracy theory that has taken on a life of its own on Twitter.
At the end of July, Bowen wrote a piece in the New Statesman about the ongoing crisis in the region. In the article he said he'd seen "no evidence" that Hamas had used Palestinians as human shields. Some days later he disappeared from our screens, and yesterday a rumour began circulating that the BBC had pulled Bowen out of the country in response to a complaint from Israel.
Accompanied by an image featuring Bowen and the BBC logo, tweeters claimed: "Israel complaint [sic] to BBC and said that this was pro-Hamas and BBC immediately pulled him out of Gaza." It isn't clear who created the image, but the correspondent's name has appeared on the social network more than 3,000 times in the last 12 hours. Many retweeted it, or paraphrased its claims.
Others hit back. "Stop retweeting that 'BBC has removed Jeremy Bowen from Gaza' link. Just because someone put it on a jpeg doesn't make it true," tweeted one.
Few spotted Bowen's own explanation, posted on Friday. When asked why he'd stopped tweeting, he replied "because I'm on holiday". This morning, Jonathan Munro, the BBC's head of newsgathering tweeted: "Nonsense that @BowenBBC left Gaza under Israeli pressure. After Syria, Iraq, Israel & Gaza he's on holiday." The BBC later released an official statement to reiterate Munro's words.
BBC Trending can confirm that Jeremy will indeed be back in his usual capacity very soon.
You can follow BBC Trending on Twitter @BBCtrending
All our stories are at bbc.com/trending