#BBCtrending: The mystery Turk gagged on Twitter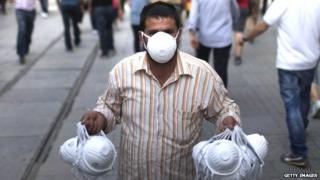 Days before Turkey votes, an anti-government account with almost a million followers has been blocked - but this time, rather than authorities jamming the internet, Twitter itself has closed the account down
Turkey's Presidential elections are only days away, and Recep Tayyip Erdogan - the current Prime Minister - is the front runner. In the middle of it all @fuatavni, a bitterly anti-government anonymous Twitter account, was blocked in Turkey in the early hours of this morning. It's still visible outside the country, but Turkish internet users get a "withheld" message when they try and view the account.
This is an echo of recent history. During Turkey's local elections in March, a court order blocked Twitter for several days. Back then, similar anonymous accounts were tweeting alleged corruption leaks. This time around, it seems the courts were used to close one specific account. Twitter has told BBC Trending that it is complying with a court order to block the account, but supports "free expression", and has filed a legal challenge to get the order lifted.
The exact legal violation by @fuatavni is unclear, but the account - purported to be leaking inside information from Turkish police - recently published details of a series of recent arrests of police officers. On Monday, the account tweeted that more police officers would be arrested and, as predicted, 33 officers had been arrested across Turkey by this morning, according to reports. The arrests of police officers are linked to the last round of corruption leaks.
Who runs the @fuatavni account? There is speculation that followers of US based spiritual leader, Fetullah Gulen, a group who previously supported Prime Minister Erdogan, but now oppose him, are behind it. "It's difficult to say," says Abudulla Bozkurt, Ankara bureau chief for Zaman, a newspaper symapthetic to Gulen's teachings. "We only know that they know a lot and that they are close to people in the government, but we don't know if they are affiliated".
There's a twist: the person behind the account seemed to know it would get blocked, tweeting as much two weeks ago, and even suggesting an alternative account to follow - @fuatavnifuat.
Prime Minister Erdogan remains the favourite to become the new President and is campaigning on Twitter. The new account @fuatavnifuat has since tweeted "you cannot close my account like this. Don't be afraid, be terrified"
Reporting by India Rakusen, Mukul Devichand and Esra Dogramaci
You can follow BBC Trending on Twitter @BBCtrending
All our stories are at bbc.com/trending