#BBCtrending: The two faces of Michael Brown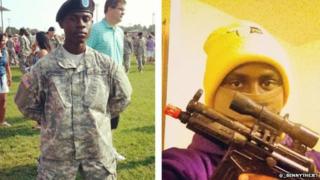 The killing of a black teenager by police in a suburb of St Louis, Missouri has sparked looting and riots in the city. Now, black people across the US have taken to Twitter to protest the way he has been portrayed in the media.
By posting two pictures of themselves - one in a conventionally positive scenario, and another in a more negative light - hundreds of people have hit back at a form of stereotyping they feel is common in the media.
Michael Brown, 18, was shot and killed on Saturday after a struggle with police, in a predominantly black suburb of St Louis. Riots broke out after a vigil held in his memory the following day.
Initially, a photograph of Brown graduating from high school was reportedly shown by media outlets running the story.
Later, an alternative photo emerged of Brown wearing a sports vest and making a sign with his hand. At a glance, it could be seen as suggestive of gang culture, even if it was simply a light-hearted gesture. It was this image that became popular with media organisations and conservative bloggers, according to criminal defence lawyer CJ Lawrence.
Lawrence says he was frustrated by what he saw as an attempt to shift blame away from the police, and onto Brown. He posted dual images of himself on Twitter along with the hashtag #IfTheyGunnedMeDown.
In the first, he is seen making a speech at his university graduation alongside guest speaker Bill Clinton. In the second, he is dressed as a rapper in a costume he wore to a Halloween party. The hashtag poses a rhetorical question, he says, "but in reality it's something we ask ourselves every day as African Americans".
Another set of photos was posted by a journalism student from Maryland, who only wanted to be known by his first name, Benjamin. In the first picture he is seen in his army reserve uniform, and in the second he is dressed as a gangster holding a toy gun. "#IfTheyGunnedMeDown would they use my pic on the left or the right?" his tweet asked. Explaining his rationale to BBC Trending, Benjamin says "I knew it had potential to take off as a major social statement, from Black Twitter to American journalism outlets."
The hashtag has proved wildly popular and been used more than 100,000 times in the last 24 hours. "#IfTheyGunnedMeDown Tweets should be required reading in every journalism class in America," said one commentator.
Reporting by Sam Judah
You can follow BBC Trending on Twitter @BBCtrending
All our stories are at bbc.com/trending