#BBCtrending: 'Share this instead' say Twitter users rejecting graphic images of James Foley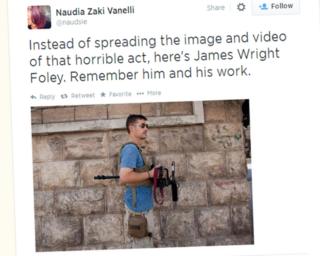 Images and videos of James Foley's killing have been circulating on social media, distressing many who see them. A range of voices have emerged calling for positive images and memories to be shared instead.
A video released by the Islamic State jihadist group shows the beheading of the US journalist who went missing in Syria in 2012. The footage has been uploaded to Youtube and Facebook, and screenshots are also being posted on Twitter.
The hashtag #ISISMediaBlackout has been used more than 11,000 times on Twitter, by those denouncing the act of sharing the macabre images. In addition, many are now calling for more positive images and memories to be shared instead.
"Instead of spreading the image and video of that horrible act, here's James Wright Foley. Remember him and his work," said one, sharing the image at the top of this article. The tweet has been shared more than 2,000 times. "Point well made. It's chilling that a beheading can be turned into a spectator sport," read one response. Not everybody agreed with the calls not to share footage of the killing. "The world needs to see the barbarians we are dealing with, I think James would want us to, if not he died in vain!" replied another. Viewed as a whole, however, response to the messages has been overwhelmingly supportive.
Pranaav Jadhav, a journalist based in the US, posted a similar message, with the picture above. "Dear Media, Please avoid sharing any images or videos of journalist James Foley's death- instead lets share this," it read. Speaking to BBC Trending Jadhav says "an argument may surface that it is important to show the real face of ISIS," but that since the group wants to "cause harm by spreading these videos, it is important to take a stand against them."
"Instead of seeking out the beheading video of James Foley, seek out his work, he died in the service of telling stories from dark places," said a fellow journalist. "Share this instead," said another, citing this article that he wrote for the Global Post in the month prior to his capture. Others called for people to watch a talk he gave at Medill University, or a BBC interview, both filmed in 2011.
Have you subscribed the BBC Trending podcast? You can do so here via iTunes or here
All our stories are at BBC.com/trending