#BBCtrending: Disowned on video, gay teen speaks out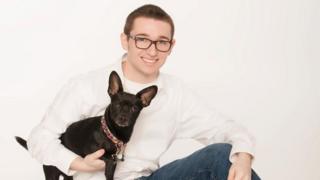 When college student Daniel Pierce first came out to his family last October, they seemed to be supportive. His stepmother responded positively, even if his father said nothing.
He never expected that nine months later, they would kick him out of the house.
When he arrived at his Kennesaw, Georgia, home after finishing work on Tuesday, 26 August, Mr Pierce says that his family was waiting for him. Sensing that something was amiss, he took out his phone and began to film.
"I recorded the video because I knew something was going to happen and I wanted to protect myself in case I was harmed in any way," he told the BBC.
The five-minute video does not reveal his family's faces, but their message can clearly be heard.
"You can deny it all you want to but I believe in the word of God," says a female voice. "And God creates nobody in that way. It's a path that you have chosen."
Within minutes, the tense conversation escalates. A woman appears to strike him.
"Get off me!" he says, as the camera shakes violently. "What's wrong with you people?"
"No, what's wrong with you?" his family members yell back. Someone also says he is a "disgrace."
Immediately following the incident, Mr Pierce's aunt came to get him and took him in. He hasn't been home since. (His aunt supported this story when speaking to The Advocate.)
Mr Pierce, a 20-year-old who works at The Good Dog Co, a holistic and organic pet store, says: "If they would have just said 'Get your stuff and get out,' I would have said OK. I'm not the person who wants to get in a fight."
Later that night, Mr Pierce posted the video on YouTube.
"I wanted to prevent this from happening to as many people as possible," he says.
"If one family saw it and then changed the way they approached their child and it saved one child from what I went through that night, it was worth it," he says.
Within two days, the video received more than 2 million views. Mr Pierce's name has become a hashtag, with people showing support across the internet.
One of his supporters created an online donation fund on gofundme.com, which has raised more than $78,000 (£46,993).
His boss, Regina Ryan, says Mr Pierce teared up when he learned about the fund.
"[His story] has gone viral because it has touched every genre of people--old people, young people, gay people, straight people," she says. "This doesn't just happen in the movies--it's for real. When it's in your face, you can't walk away from it."
Mr Pierce, who is studying business administration at Georgia Highlands College, says he would like to give some of the money to youth facing similar situations.
Reporting by Annie Waldman
You can follow BBC Trending on Twitter @BBCtrending
All our stories are at bbc.com/trending