#BBCTrending: Justice for AvaLynn draws outrage, questions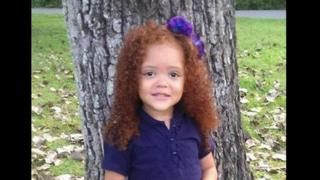 The "Justice for AvaLynn" campaign has attracted attention on Twitter, Facebook and the crowdfunding website GoFundMe, with thousands outraged about the alleged assault of a Mississippi five-year-old. But as one local reporter tells the BBC, the story is not as simple as it seems.
In late August, Lacey Harris, the mother of AvaLynn Harris, posted a picture on Facebook of her five-year-old daughter with black eyes and large bruises. She wrote that, while at school, her daughter had been repeatedly kicked in the face by another child until she fell off of a slide.
Those who saw the images online were outraged by what they saw as the school's failure to act. The picture received thousands of likes and shares across Facebook and Twitter, and inspired the hashtag #JustiveForAvaLynn.
At the same time, Harris also created a GoFundMe campaign seeking $10,000 (£6,125) for medical needs, travel expenses, legal fees and lost wages. In eight days, it has received over $10,500 and been shared on Facebook more than 4,800 times.
But despite increased pressure from social media, the school maintains that the bruises were caused by an accident that didn't involve any other children.
A subsequent investigation by the police did not turn up any evidence of criminal activity.
"Essentially, that investigation is closed unless new information comes to light," April Havens, a reporter for Gulflive.com told the BBC's Trending radio programme.
While Ms Harris still has many supporters, some are now sceptical about her motives - especially since copycat GoFundMe pages supposedly for Avalynn were shown to be hoaxes.
"There are some who support the cause wholeheartedly and they've looked at these sort of heartbreaking pictures they've given and they support the family," Ms Havens said.
"There are others who say there are red flags. They question why a fundraiser was set up so early and what sort of costs would really would be associated with an injury like this."
The "Justice for AvaLynn" Facebook page posted a message this week saying that they are not behind any of the accounts on Instagram, Twitter, Reddit and Tumblr.
Reporting by Kierran Petersen
You can follow BBC Trending on Twitter @BBCtrending
All our stories are at bbc.com/trending