#BBCtrending: Survivors share why they stayed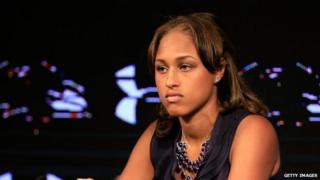 They're not unusual questions to hear asked whenever talk turns to an incident of domestic abuse. Why did she stay? Why didn't she leave him?
Usually questions like these are said under the breath or behind closed doors.
For Janay Palmer, however, they have become the stuff of social media banter, thanks to Monday's publication of a security video in which she was knocked unconscious by her then-boyfriend, now-husband, American football star Ray Rice. (Rice was released from his contract with the Baltimore Ravens after the video went public).
The questions are misdirected, says Beverly Gooden, who spent a year in an abusive relationship.
"Why did I stay?" the Charlotte, North Carolina woman asks on her website. "Leaving was a process, not an event. And sometimes it takes a while to navigate through the process."
Hearing the question asked over and over again regarding Palmer prompted Ms Gooden to create the hashtag #WhyIStayed and post a series of tweets explaining her situation:
In less than a day, #WhyIStayed was used more than 71,000 times, as women and men tweeted stories and examples of why they couldn't break away from abusive relationships.
Sometimes, they wrote, it was out of fear - of their abuser, of the future, of the unknown. Sometimes it was because they thought they couldn't do any better or because it was what they deserved.
Every explanation was unique and uniquely painful - providing a face and a name to a crime that often remains unrevealed.
According to a 2000 study by the US Centers for Disease Control and Prevention, 1.3 million women in the US are the victims of domestic abuse each year and only 25% of physical assaults are reported.
Another sobering statistic, often cited in this discussion, is that women are at greatest risk of death only after they leave or try to leave an abusive partner.
#WhyIStayed also sparked a companion hashtag, #WhyILeft, in which victims recounted what it took for them to finally walk out the door. Since it started Monday night it's had more than 18,000 Twitter mentions.
"I hope the women tweeting in #WhyIStayed feel powerful and heard," Ms Gooden tweeted after the hashtag had caught fire. "So thankful that you are here to tweet your voice."
Reporting by Anthony Zurcher
You can follow BBC Trending on Twitter @BBCtrending
All our stories are at bbc.com/trending