#BBCtrending: The row over a bus seat in China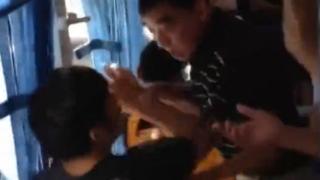 Chinese people are sharing a video in which a young man refuses to give up his seat on the bus, and is beaten by several elderly passengers.
On buses in Wuhan, yellow seats have special meaning. Passengers using them are expected to offer them to pregnant women, the elderly or the infirm. The custom is frequently overlooked, however, and younger passengers routinely flout the rules.
But one young man occupying a yellow seat on a bus in the city in central China did not go unchallenged. In the video - captured on a mobile phone - an older man begins shouting at him, telling him to vacate the seat for another man standing right next to him. The young man refuses and begins shouting back, before being pushed and hit several times.
The video was uploaded to NetEase, a popular Chinese web portal, by an unknown user. The original has been viewed more than 160,000 times, and copies on other social networks have been viewed many more. The reaction on both NetEase and Weibo - a microblogging website similar to Twitter - has been fierce, and the vast majority of those commenting appear to be angry with the older people.
"If they have the strength to beat people up, why did they need seats?" said one. "The young man was wrong not to give up his seat to the elderly. However, those elderly people were even worse... Giving up your seat on public transport is a voluntary act. How can anybody use violent means to force others to give up their seats?" said another.
Incidents like this one are not uncommon in China, where tension between generations appears to be on the rise. The country's one-child policy - which has existed in a variety of forms since 1979 - has contributed to a skewed demographic shift. According to some estimates, a third of the population will be over the age of 60 by the middle of this century, and there are increasing fears that the population of working age may struggle to support them.
Pan Tianshu, an anthropologist at Fudan University, told BBC Trending that the problem is really about economics, not about age itself. "Instead of seeing this as just a generational war, we should see it as [the result of] increasingly limited public resources for a rapidly transforming society," he says.
The China News Service reports that no arrests were made by the police, and the young man was not seriously injured.
Reporting by Sam Judah
You can follow BBC Trending on Twitter @BBCtrending
All our stories are at bbc.com/trending