#BBCtrending: 'Deadbeat' shaming on Facebook in Kenya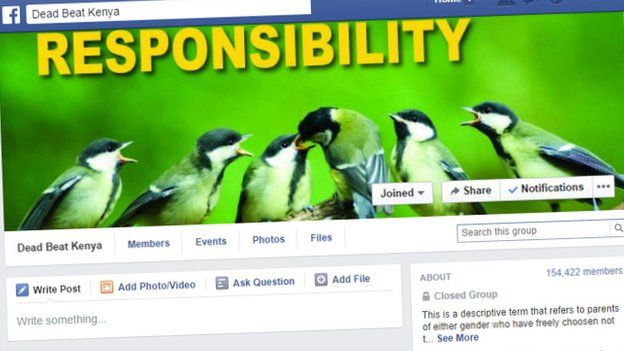 A Facebook group that names and shames parents who are not supporting their children, according to its founder, has gone viral in Kenya.
The social network may not seem like an obvious place to resolve paternity disputes, or accusations of missing childcare payments. But last week a Kenyan called Jackson Njeru set up a Facebook group to do just that.
Dead Beat Kenya allows parents who believe their child's mother or father has acted irresponsibly to post their name, photograph and phone number, along with a description of the grievance online. The closed group has attracted 155,000 members in little more than a week, most of them eager to comment on the cases rather than create new posts.
Of course, Njeru's plan is fraught with difficulties. How does he establish whether the claims genuine? And even if they are, is public humiliation really the best course of action?
Before the posts appear for others to see, Njeru says his team run a few checks. "We first call the person who is accusing, then we call the accused. From there if the person is not willing to take care of his or her own responsibility, that's when we approve the post," he tells the BBC's Focus on Africa programme. Since its launch, Dead Beat Kenya has been approached by lawyers willing to work on a pro-bono basis, and in six cases couples have reached a settlement as a result of the group, Njeru claims.
Not everybody thinks his actions are fair, however. BBC Trending spoke to one of the men accused of abandoning his child. "What she is saying is not true, and she is damaging my reputation," he says, referring to a woman who created the post. He denies he is the child's father, and is now considering legal action. "It is just a forum that is made to destroy relationships and put people on the line," he says.
Njeru argues that those making the accusations do not currently have sufficient recourse through the legal system. "Whatever we're doing, it's all because of the justice system," he says. "People are complaining the system is corrupt. They've tried taking their deadbeats there, but they are told to get a lawyer they can't afford."
Whilst adamant that the group is serving a public purpose, he does not anticipate acting with impunity for long. "I haven't had any court summons, but the group is still young."