#BBCtrending: Old versus young on China's buses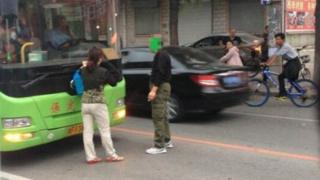 An elderly Chinese man, who claims he was not offered a seat by younger passengers, stood in front of a bus for two hours to stop it moving.
The man was spotted standing in the road and waving his arms in front of the bus in Baoding, a city not far from the capital Beijing. "No-one leaves," he was heard shouting, as he blocked the bus from moving. Whether he had actually been offered a seat on the bus is disputed by eyewitnesses, but the issue appears to be the reason for his tirade. A woman who was travelling with him is reported to have shouted: "College students these days have no character, not a single one of them gave up their seats for us."
Pictures taken by a local resident and uploaded to an online bulletin board have gone viral on Chinese social media. It has been the top trending topic on the Baidu Baoding forum since appearing on Sunday, and the story has attracted more than 5,000 comments on the microblogging site Sina Weibo.
This was not an isolated event. Just two weeks ago, BBC Trending reported on a fight in which several older people attacked a young man on a bus in Wuhan for refusing to give up his seat. Days later, a man in his 70s died after a physical altercation with a youth over exactly the same issue on a bus in Zhengzhou. In response, a group of elderly men staged a demonstration telling their peers that they should be the ones giving up their seats for younger people.
In each case, the online reaction has been vociferous. Far from standing up for the older passengers, most people have voiced anger and irritation with them. "Elderly people have become a nuisance," said one typical comment. "Being polite is up to me. If I don't give you my seat it's because I'm not obliged to," said another.
Theories abound about the reasons for the tension. Many see it as a result of a rapidly ageing population. A third of Chinese will be over 60 by 2050. Others think that there is a specific cultural dimension, arguing that those in their 60s today feel disillusioned with the changes that have taken place in their lifetimes. "They were all Red Guards. Or, at any rate, most of them," says James Palmer, a newspaper editor in Beijing. "They were told that they were special, and the future of China... and then saw everything they believed in stripped away by the time they were in their late 20s or 30s. It's no wonder some of them are grumpy."
Reporting by Sam Judah
You can follow BBC Trending on Twitter @BBCtrending
All our stories are at bbc.com/trending