#BBCtrending: Argentina's motorbike robber finds fame online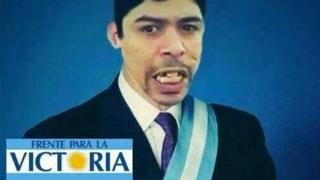 The robber caught threatening a tourist in Argentina has found fame on social media, and is now the subject of a string of parodies.
Earlier this month, Gaston Aguirre was caught on camera trying to rob a Canadian tourist's bag. "The backpack, give me the backpack!", he is heard shouting, while riding a motorbike and brandishing a gun. Footage of the attempted robbery was posted online, turning him into a celebrity on television and social media, and one of the most notorious men in the country.
A Facebook page called "Inspector de mochilas", or "Bagpack inspector", featuring jokes about Aguirre has amassed more than 150,000 likes. And the hashtag #Motochorro, which translates as "thief on a motorbike", has appeared more than 24,000 times on Twitter. There is even an online video game in which the player takes control of a tourist trying to out-pedal a robber on a motorbike.
Many gave the meme a political twist, imposing the robber's face onto a picture of Argentina's vice president Amado Boudou. The politician, also a keen motorcyclist, is currently embroiled in a corruption scandal and has been dubbed "the real thief" by many online.
Some turned the robber into Snake Turley, the criminal from The Simpsons.
And others swapped his pistol for a bunch of flowers.
Explaining his actions on national television, Aguirre said: "It was my son's birthday and I needed some money, that's why I went out to rob. I took my weapon but I wasn't planning on firing it, I just wanted to scare [him]." Reaction to the interview has been far from positive, however, and angered many on social media. "Should the media give the robber so much time on air, so he can present himself as the victim?" asked historian Diego Valenzuela on Twitter. Aguirre has now been arrested, and is facing charges.
Despite the high-profile crime, Argentina remains one of the safest counties in Latin America, with rates of homicide among the lowest in the region.
Reporting by Ignacio de los Reyes
You can follow BBC Trending on Twitter @BBCtrending
All our stories are at bbc.com/trending