#BBCtrending: Hong Kong's 'Vain Princess' speaks out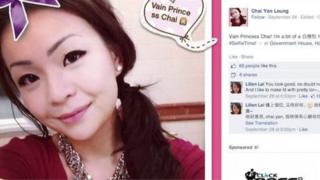 After reporting on the rise of Firechat earlier in the week, BBC Trending have been keeping an eye on what's trending in Hong Kong. Here are a handful of the more unusual stories from around the web.
'Vain Princess'
The daughter of Hong Kong Chief Executive CY Leung has apparently posted a badly-timed rant on her Facebook page. The profile picture - on an account that appears to belong to Chai Yan Leung - attracted some unkind comments about the necklace she was wearing. "This is actually a beautiful necklace bought at Lane Crawford (yes- funded by all you HK taxpayers!! So are all my beautiful shoes and dresses and clutches!! Thank you so much," she said, before suggesting that most of her detractors were "probably unemployed". The account has now been deleted.
The compassionate policeman
A photograph of a member of Hong Kong's riot police washing pepper spray from a protester's eyes has been widely shared on Facebook and Twitter. After being sprayed with the chemical, the demonstrator reportedly asked: "We are unarmed. How can you attack us like that?" Feeling guilty, the policeman apparently took out his water bottle and began rinsing the young man's eyes. According to the Epoch Times, some police officers have resigned because of the way protesters have been treated.
The British academic
It's not surprising that one of the most popular posts on Sina Weibo - China's answer to Twitter - spoke out in favour of the Chinese government. The authorities in Beijing have stepped up their censorship of the platform in recent days. More unusual was that it appears to have been written by a British academic working at a Chinese university. "Western media reports on the Hong Kong issue have been too hypocritical," wrote John Ross. "In 150 years of colonial rule over Hong Kong, the UK never permitted its people to elect the Governor, and the United States didn't protest against the UK about it," he said.
Dissident voices
Despite its wide ranging attempts to censor opposing voices online, some criticism of the Chinese government has slipped through the net. BBC journalist Yuwen Wu has been monitoring the conversation on Sina Weibo, and found a comment string attached to a newspaper article. Tired of the blanket coverage in support of the authorities, one user posted: "Go Hong Kong go! Support the strike action!". "You don't understand what the Hong Kong people are fighting for. You don't understand the feeling of being ignored by the government," said another. The comments still appear to be live.
You can follow BBC Trending on Twitter @BBCtrending
All our stories are at bbc.com/trending