#BBCtrending: The 500-year-old poem that captivated Reddit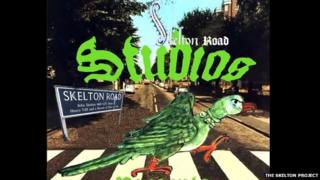 A complex political satire written almost 500 years ago doesn't seem like an obvious candidate for viral success, but its unusual pronunciation has struck a chord online.
The poem, called Speke, Parrot, was written in the sixteenth century by an Englishman named John Skelton. A group of students at a Dutch university set the poem to pictures and asked their professor to read it aloud, pronouncing the words as closely as possible as to the original Middle English. It's almost unintelligible to the untrained ear, but that seems to have been the key to its popularity.
The students uploaded the video to YouTube on Tuesday. Their friend posted a link to the history sub-forum on Reddit - a popular online discussion board - where it took on a life of its own. It has quickly become one of the highest rated posts of all time in that category, with more than 2,000 "upvotes". The video has now been viewed more than 110,000 views on YouTube.
"I was quite surprised myself," says Sebastian Sobecki, professor of Medieval English at the University of Groningen, who voiced the short film. He tells BBC Trending that in the poem Skelton - tutor to English King Henry VIII - satirises a new breed of courtiers, eager to impress King Henry and his policy makers with their fashionable opinions, and language skills newly acquired overseas. That's why he refers to them as "parrots"; you could call them the hipsters of their day.
The conversation on Reddit homes in on the way the poem is pronounced, rather than its political meaning. "It sounds like a medley of Scottish, Dutch, German and English to me," wrote one. "To me it sounds like the Spanish Ambassador from Blackadder," said another.
"They're exclusively focused on how we know what Middle English sounded like," notes Sobecki, who says a huge body of research makes it possible to recreate the sounds with relative accuracy. "It seems that there are a lot of people outside academia who take an interest in that, and that's big news to me."
You can follow BBC Trending on Twitter @BBCtrending
All our stories are at bbc.com/trending