#BBCtrending: Rich kids v poor kids in Tehran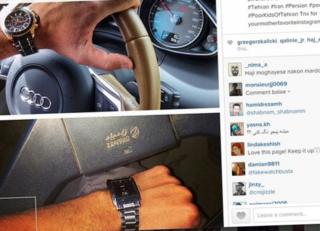 On Tuesday BBC Trending reported on the Rich Kids of Tehran Instagram account, dedicated to the glamorous lives of wealthy young Iranians. Now the account has a satirical rival.
The world of the Rich Kids of Tehran is one of designer jewellery, plush houses and smoking shisha pipes by the pool. The Instagram account attracted thousands of followers in just a few weeks, and received widespread media attention, including from the Iranian press. The newly created Poor Kids of Tehran account - as the name suggests - shows a different side of life in the country.
Many of the photos mimic their rich counterparts in their framing and content. The image at the top of this article contrasts someone at the wheel of an Audi with a man behind the dusty wheel of a locally-made Zamyad car. In another, homeless children are seen asleep on newspapers in the city's Azadi Square.
It is not clear who created the account, and not everyone finds its satirical edge appropriate. "Why make this page? The whole point of the Rich Kids of Tehran was to show the western countries that Iran isn't how it is portrayed in their media, and now you've made a page showing everyone the exact opposite," read one comment, later deleted.
Meanwhile, the original Rich Kids of Tehran account has been all but deleted by its administrator. The page, with almost 100,000 followers, says this was due to the "high amount of false publicity". Another page, with fewer followers but many of the same photos, has since been set up. BBC Persian debated the page with their viewers on a television news programme. One man told them the rich can spend their money "in whatever way they wish". His wife then grabbed the phone and called them "bloodsuckers".
Reporting by Thom Poole
You can follow BBC Trending on Twitter @BBCtrending
All our stories are at bbc.com/trending