#BBCtrending: Was a Hong Kong protester's 'beating' played down?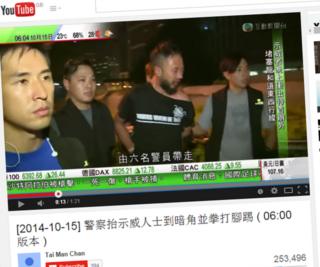 Did a Hong Kong TV station play down police brutality towards a pro-democracy protester?
The video has shocked people around the world. It shows a group of Hong Kong police officers leading protester Ken Tsang down a dark street and throwing him to the ground. Some kick him and strike him with batons while others stand guard. The incident was caught on camera and broadcast on TVB, a Hong Kong television channel.
After initially posting it to their website as well, the powers that be at TVB removed the footage, but not before it was copied and uploaded to YouTube multiple times. One copy alone has been viewed more than 250,000 times, and other versions have tens of thousands of views each.
Today, several TVB journalists wrote an open letter, apologising to viewers for the way their station's management presented the story. In early morning broadcasts, the script accompanying the video stated that the police "placed him on the ground, and then punched and kicked" at Tsang. Between 7:00 and 12:00 local time, the phrase was removed altogether by the station's senior managers. And after 12:00, a different phrase - "the police are suspected of having used violence against him" - was inserted.
The journalists say that the crucial phrase "拳打腳踢" (punched and kicked) was a "reflection of the facts", and the management's decision to remove it made them "extremely uncomfortable". Posted five hours ago, the letter has received more than 32,000 likes, and been shared more than 10,000 times. It has drawn the support of the Hong Kong Journalists Association (HKJA), and several trade unions.
Keith Yuen, TVB's news director, has defended the stations' decision to remove the footage from their website, because the incident was subject to a police investigation. The HKJA says that since the report was factual, there was no need to remove it. Yuen is seen by many as opposing the demonstrations, and supporting the Chinese governement. He was reportedly one of the first journalists to shake hands with the Chinese leader Li Peng in the wake of the massacre at Tiananmen Square.
Reporting by Sam Judah and Samiha Nettikkara
You can follow BBC Trending on Twitter @BBCtrending
All our stories are at bbc.com/trending