#BBCtrending: Wells Fargo worker's mass-email salary request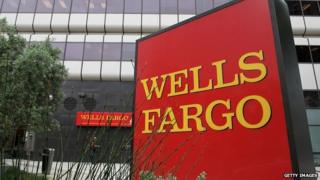 A Wells Fargo employee in Portland, Oregon, thinks he and his co-workers deserve a raise - and he wants everyone to know.
Tyrel Oates, who works in the bank's collections department, spent two weeks gathering more than 200,000 email addresses of fellow employees. He then cc-ed them in a message asking Wells Fargo head John Stumpf to help address income inequality in the US.
"My proposal is take $3bn [£1.88bn], just a small fraction of what Wells Fargo pulls in annually, and raise every employee's annual salary by $10,000," he writes in his email, which was subsequently posted on the social media site Reddit.
Mr Oates also has a message for his fellow workers: "[I]t is time that we demand to be rightfully compensated for the hard work that we accomplish, and for the great part we all have played in the success of this company."
The story was tweeted thousands of times and shot to the top of "most popular" lists on sites like The Washington Post.
Molly Young, a reporter for the Oregonian, tells BBC Trending that Mr Oates put a human face on wage stagnation, an issue that is gaining momentum in the US.
"He is at the level of worker that is actually bringing in money and creating profits, and who are not seeing this reflected in their own raises," she says.
Wells Fargo netted $5.7bn in profits in the second quarter. Last year CEO Stumpf was paid about $19m, which Oates notes is more than most Wells Fargo employees will make in their lifetime.
At a Wells Fargo branch in Washington DC, one worker says she found the email "unprofessional, but well written" - and says that she could use a raise. She wonders how much longer Mr Oates will keep his job - a concern echoed by many of the commenters on the Reddit post.
"Now, whenever a hiring manager willing to pay $20/hr Googles the name from his resume, this will come up," writes one Reddit user.
Stumpf hasn't replied, although a bank spokesperson says Wells Fargo's compensation is "market competitive".
For now Oates is still on the Wells Fargo payroll - and his existing salary hasn't budged.
Reporting by Max Matza
You can follow BBC Trending on Twitter @BBCtrending
All our stories are at bbc.com/trending