Lawyer brings baby to court, gets 'humiliated'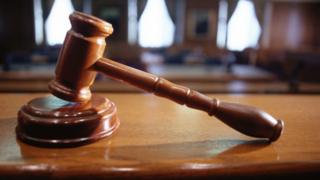 When a lawyer asked a Georgia judge to postpone a hearing because she'd just had a baby, he refused. When she brought the baby to court, he berated her for poor parenting.
Social media have responded with overwhelming support for the lawyer, sharing - almost 7,000 times in one day - her formal complaint filed against the judge, as well as an article from the website Jezebel.
Stacy M Ehrisman-Mickle had asked the Atlanta court to delay an immigration hearing while she was on maternity leave. "But that excuse just wasn't good enough for Judge J Dan Pelletier Sr, who shot down her request (with just a week's notice, no less)," writes Jezebel's Kelly Faircloth. "THAT'LL TEACH YOU TO REPRODUCE WHILE TRYING TO DRAW A SALARY."
According to Ms Ehrisman-Mickle's complaint, she had no choice but to bring her infant to court, where Mr Pelletier "humiliated" her.
"When the [immigration judge] saw me with my daughter, he was outraged," she writes. "He then questioned my mothering skills, as he commented how my paediatrician must be appalled that I am exposing my daughter to so many germs in court."
The judge became the focus of online outrage, including from several attorneys who said sexism is still common in the courtroom
One Jezebel commenter says she recently heard a judge call a female colleague a "brat".
"While I haven't been practising long, comments like that are made to female attorneys unacceptably frequently," she writes.
Another says the US court system has no legal requirement to grant "any kind" of leave. "Can someone explain why I should feel that this is horrible?"
"Motions to continue are very, very routine," said Prof Jason A Cade of the University of Georgia.
"You have to show good cause and only ask for a reasonable amount of time in extension… I made this exact request at the time that my first son was born, and it was granted."
Mr Case says bearing children is generally something judges recognise as a reasonable cause.
Reporting by Micah Luxen
You can follow BBC Trending on Twitter @BBCtrending
All our stories are at bbc.com/trending