#BBCtrending: Hong Kong's political haircut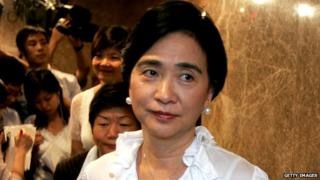 As pro-democracy protests continue on the streets of Hong Kong, even the hairdressers has become a place for political confrontation - as one senior politician found out.
Emily Lau Wai-hing is a legislator with the Democratic Party who openly supports the protestors. She's been trending on social media after being filmed getting a telling off by another customer while at the hair salon. "I just had my hair done last Saturday," Lau told BBC Trending. "When I tried to leave, a lady, a customer like me, stood at the doorway to block my exit. She was upset with the Occupy protesters and wanted me to have a taste of being blocked. She also asked me why I had time to do my hair."
A video of the incident was uploaded to YouTube and has so far been watched over 70,000 times. It's not confirmed who took the video, but Lau says the woman who confronted her kept pointing at her mobile phone. "When other people tried to enter or leave the salon, she moved aside, but wouldn't let me go" she said.
Emily Lau Wai-hing is a former journalist and now a senior politician and legislator in Hong Kong. She's received awards for her human rights work and is known for speaking her mind. However in this video, she says nothing. The only voice that can be heard is the one coming from behind the camera.
"It's the irony that's making people share this video" says Kris Cheng a journalist and political columnist in Hong Kong. "Emily Lau is known for criticism without restraint. But this time she's scolded and seemingly can't fight back. The woman in the salon is against the protests and is asking Lau why students have to sleep on streets, while she takes care of her hair."
"I appreciate some people are upset with the occupiers, so I didn't argue with her," Lau says. BBC Trending has been unable to contact the woman who approached Lau in the salon.
Lau may have remained silent in the hair salon, but she tells us her views are unchanged. "It's very sad to see the row over political reform and the Occupy movement have split Hong Kong asunder!" she says. "I just wish Beijing would come to its senses and allow Hong Kong to have democratic elections." Officials in Hong Kong have just held the first round of talks with protest leaders.
Reporting by Anne-Marie Tomchak